Cancer
Expect to find some of the best cancer care and cancer treatments in New York's Southern Tier at UHS, including cancer screenings and diagnosis, treatment, and survivorship and support services.
Advanced, Accredited Oncology Care & Treatment
You can trust that you're getting the highest level of New York cancer treatment and diagnosis screenings in the Binghamton area at UHS from some of the best oncology doctors that treat a variety of cancer conditions. Our commitment to sophisticated, comprehensive cancer care is evidenced by several accreditations, which include:
Commission on Cancer of the American College of Surgeons
National Accreditation Program for Breast Centers
American College of Radiology Oncology Practice
ACRO
What these commendations mean for you is safe, trustworthy cancer and oncology care in New York for Binghamton and the surrounding area that takes advantage of the latest and most advanced cancer treatment therapies available.
Multidisciplinary Cancer Care Team
While one oncologist (cancer doctor) may be your primary care provider for your cancer treatment, many doctors and medical personnel at UHS will contribute to the development of your care plan.
You'll benefit from our multidisciplinary team approach to cancer care. Our medical staff comes together frequently to share information about the latest developments in the field and advise each other on diagnosis and treatment recommendations.
Journey Beads Program
Celebrating every step in your cancer journey
We know how hard it is to cope with a diagnosis of cancer. Every step in that journey is a milestone, a victory.
And we believe every one of those victories should be celebrated. That's why we're offering Journey Beads, a series of free, colored glass beads you can wear on a silk string.
Each bead symbolizes an important point in your journey, a specific procedure or trial you have endured.
The beads serve as a testament to your strength and courage, a reminder of your endurance as a fighter and survivor.
Beads and strings are available at both Medical Oncology and Radiation Oncology at UHS Wilson Medical Center, and from our Oncology Nurse Navigators. Beads are also available in the Oncology Department at UHS Chenango Memorial Hospital in Norwich.  Just ask.
Wear your Journey Beads to mark the steps you want to celebrate in your journey, your own unique walk of fortitude and hope.
Expert Cancer Care Close to Home
Find exceptional cancer services throughout the UHS service area in New York's Southern Tier. Services and cancer treatments may vary by location. Your oncology will refer you to the cancer treatment facility and oncologist in the Binghamton area that best suits your care needs.
Fighting Lung Cancer with Technology
Dianne smoked for about 50 years. In 2021, her doctor identified a spot on her lung and, by 2022 it had grown larger. Her doctor referred her to M. Farhan Nadeem, MD, cardiothoracic surgeon at the UHS Heart & Vascular Institute. Dr. Nadeem joined UHS in 2021 with extensive training in robotic thoracic surgery for cancerous nodules in patients' lungs. Dianne is one of his first patients at UHS to undergo this minimally invasive procedure.
Read her story in UHS Stay Healthy Magazine >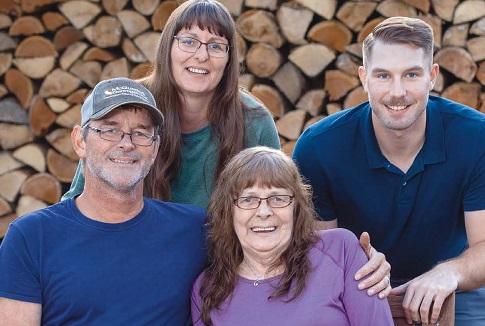 Questions and Answers about COVID-19 for cancer patients
I am a cancer patient. What should I do to protect myself from COVID-19?
Because cancer treatments weaken the body's immune system, cancer patients are among those at risk for serious illness from COVID-19. The CDC recommends that people at higher risk for COVID-19:
Take precautions to keep space between yourself and others. Avoid close contact with people who are sick and:

Wash your hands often with soap and water for at least 20 seconds, especially after visiting a public place.
If soap and water are not available, use a hand sanitizer that contains at least 60% alcohol.
Avoid touching your eyes, nose and mouth.
Avoid touching high-touch surfaces in public places. Use a tissue or your sleeve to cover your hand or finger if you must touch something.
Avoid shaking hands.
Clean and disinfect high-touch surfaces in your home routinely.
Avoid crowds, especially in poorly ventilated spaces.
Avoid all non-essential travel including plane trips, and especially avoid cruise ships.
If COVID-19 is spreading in your community, stay home as much as possible and consider having food delivered.

Stock up on supplies:

If you take medication, contact your care team to ask about obtaining extra medication to have on hand in case there is an outbreak of COVID-19 in your community and you need to stay home for a prolonged period of time.
Be sure you have over-the-counter medicines, tissues and other medical supplies to treat fever and other symptoms. Most people will be able to recover from COVID-19 at home.
Have enough household items and groceries on hand so that you will be prepared to stay at home for a period of time.

Have a plan in case you get sick:

Talk to your care team for more information about monitoring your health for symptoms of COVID-19.
Stay in touch with others by phone or email. You may need to ask for help from friends, family, neighbors, or community health workers if you become sick.
Determine who can help you if your caregiver gets sick.

Watch for symptoms and emergency warning signs. Pay attention for potential COVID-19 symptoms including, fever, cough and shortness of breath. If you feel like you are developing COVID-19 symptoms, stay home and call your healthcare provider to let them know. This will help them take care of you and keep other people from getting infected or exposed.
If you develop emergency warning signs for COVID-19, get medical attention immediately. In adults, emergency warning signs might include:
Difficulty breathing or shortness of breath
Persistent pain or pressure in the chest
New confusion or inability to arouse
Bluish lips or face
This list is not all-inclusive. Please seek medical attention for any other symptoms that are severe or concerning.
Should I wear a face mask?
If you are a cancer patient, you should only wear a face mask if your care provider has recommended that you do so because you are at high risk for infection from causes other than COVID-19. If your care provider has not made this recommendation and you are not experiencing COVID-19 symptoms, you should not wear a face mask.
Is the UHS Cancer Center limiting visitors?
Yes. To protect patients and staff, UHS Oncology will limit the number of visitors on its campuses while there is a threat of COVID-19 transmission. At this time, we are asking that cancer patients come alone to appointments if possible. If the patient cannot attend the appointment alone, we are asking that our cancer patients bring only one person over the age of 18 to outpatient appointments.
These restrictions may be difficult for patients and their loved ones, but UHS is taking this necessary step to protect patients and staff. Limiting the number of visitors is temporary and is being done to safeguard the health of all who come to UHS. This is especially important for cancer patients whose immune systems may be weakened due to treatment.
What to Expect
Please expect screening at all UHS Oncology locations for all patients and visitors. This will include an assessment of recent travel and contact history, temperature evaluation, as well as symptoms associated with COVID-19.
While we continue to provide care to our patients during the COVID-19 pandemic, some patients may be asked to reschedule their appointments. If there are changes to your care, you will be contacted by your care team.
All upcoming support group meetings have been cancelled at this time and further information regarding future support groups will forthcoming.