Walk-In Centers
If you are experiencing COVID-19 symptoms please start a Virtual Walk-In visit.
UHS Walk-In Centers provide you and your family with minor, immediate care. With no appointment necessary, you can expect quality medical attention at your convenience. The providers at UHS Walk-In Centers diagnose and treat a broad range of medical problems such as cuts, coughs, fevers, flu, ear infections and vomiting.
Virtual Walk-In vs. Walk-In/Primary Care vs. Emergency Room
UHS Holiday Walk-In Center Hours
At UHS we are here for you, even on the holidays. A complete schedule of 2022 holiday walk-in hours and locations can be found below.
2022 Holiday Schedule

HOLIDAY

DATE

ENDICOTT
WALK-IN

VESTAL
WALK-IN

ALL OTHER
OFFICES

New Year's Day
Saturday, January 1, 2022
8 a.m. - 8 p.m.
8 a.m. - 8 p.m.
CLOSED
Memorial Day
Monday, May 30, 2022
8 a.m. - 8 p.m.
8 a.m. - 8 p.m.
CLOSED
Independence Day
Monday, July 4, 2022
8 a.m. - 8 p.m.
8 a.m. - 8 p.m.
CLOSED
Labor Day
Monday, September 5, 2022
8 a.m. - 8 p.m.
8 a.m. - 8 p.m.
CLOSED
Thanksgiving Day
Thursday, November 24, 2022
CLOSED
8 a.m. - 8 p.m.
CLOSED
Christmas Eve
Saturday, December 24, 2022
8 a.m. - 8 p.m.
8 a.m. - 8 p.m.
CLOSED
Christmas Day
Sunday, December 25, 2022
CLOSED
8 a.m. - 8 p.m.
CLOSED
New Year's Eve
Saturday, December 31, 2022
8 a.m. - 8 p.m.
8 a.m. - 8 p.m.
OPEN *
New Year's Day
Sunday, January 1, 2023
8 a.m. - 8 p.m.
8 a.m. - 8 p.m.
CLOSED
Radiation Oncology: Open Sunday, November 20 and closed November 24 and 25.
Medical Oncology: Closed May 30, July 4, September 5, November 24, December 26, January 2, 2023.
Concerned you might have COVID-19?
In-person visits are NOT encouraged if you are experiencing symptoms that could be COVID-19 (fever, shortness of breath, cough, fatigue, muscle aches, headache). Contact your Primary Care provider or start a Virtual Walk-In visit to have your symptoms evaluated.
Start a Virtual Walk-In Visit >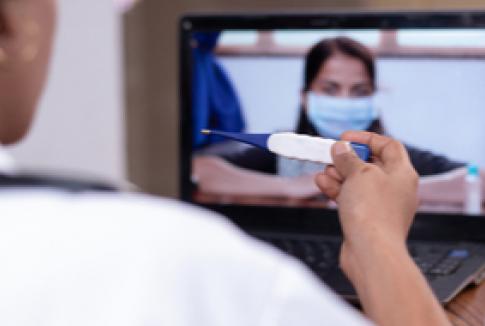 Students: The virtual way to skip the waiting room
College students are reminded that a virtual medical visit is the best way to avoid being out and about among others more than you have to.

The virtual health option offered by UHS will limit your exposure to COVID-19.

During the pandemic, UHS clinicians are taking extra measures to ensure a clean environment and prevent exposure to the virus. When it's necessary for you to receive care at our walk-in centers in person, we are open, sanitized and safe.

In addition, our Virtual Walk-In service is open online daily from 8 a.m. to 8 p.m. as a convenient first step in seeking care.

If an in-person visit is recommended for one of our Walk-In locations, we ask that you reserve a time using the online reservation tool. Please come alone if at all possible. If you do require assistance, please limit this to one additional person only. Do not bring a guest who is not feeling well, and someone over age 65 shouldn't come with you if at all possible.

Masks are required to be worn by everyone in our locations across the Southern Tier; this includes our staff and patients. Practice social distancing, staying at least six feet away from others and maintaining a safe distance away from the receptionist's window.

Use hand sanitizer from one of our convenient dispensers and wash your hands for at least 20 seconds with soap and water when you can.

We understand that these rules aren't easy or welcome, but we must comply with federal, state and county directives and we want to ensure the highest possible level of safety for everyone.
Remember:
If you develop a fever with symptoms of respiratory illness, such as a cough or shortness of breath, within 14 days after recent travel, or within 14 days of contact with someone who is showing symptoms, contact your primary care provider immediately.
If you have a medical emergency, call 911 at once. Never delay in-person care if you are struggling to breathe.