Schedule your vaccination appointment online!
Are you due for a Flu, COVID-19 or Shingrix (shingles) vaccine? You can now schedule an appointment online! The UHS Specialty Retail Rx Vaccine Clinic is located at UHS Binghamton General Hospital, Krembs First Floor.
Please note there are three designated 15-minute parking spaces available. Questions? Call the clinic at (607) 422-3846.
Schedule an Appointment >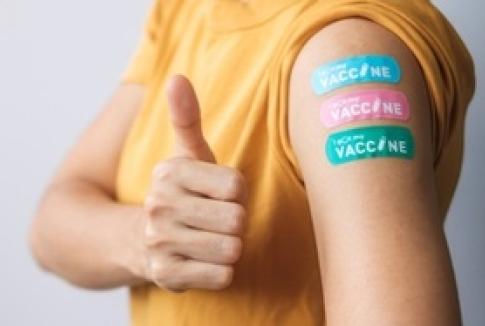 COVID-19
Please do not visit our facilities if you are experiencing symptoms that could be COVID-19 (fever, shortness of breath, cough, fatigue, muscle ached, headache).
What to do if you are sick
You and your family's health, safety and well-being are of utmost importance to us at UHS. If you are not feeling well, we strongly encourage you to call your provider's office or utilize the UHS Virtual Walk-In before you come in especially if you are experiencing fever, shortness of breath, cough, or any combination of those. DO NOT delay seeking in-person care if you are struggling to breathe. Infections like the flu and the novel coronavirus are especially concerning, but can be avoided by taking precautions.
If you are coming for an appointment with your provider, we ask that you come alone whenever possible.
If you desire support or you require assistance during your visit, please limit this to one adult companion or support person. Your support person may be asked to wait in their car or in the waiting room during your time with the provider in order to maintain social distancing and limit the potential for exposure
If you are bringing a child in for a pediatric appointment, please do not bring the youngster's siblings.
We understand that this is not an easy or welcome transition. We want to ensure the highest possible level of safety and care for everyone's well-being and to be compliant with federal, state and county directives during the COVID-19 pandemic.
UHS Virtual Walk-In
UHS is encouraging patients with concerns about a respiratory issue to seek care through our Virtual Walk-In to be evaluated prior to coming for in-person care. DO NOT delay seeking in-person care if you are struggling to breathe. The Virtual Walk-In is open daily 8 a.m. to 8 p.m.
Our local UHS providers can diagnose patients with colds, viral respiratory infections, influenza, or potential COVID-19. If our provider suspects you may have COVID-19, they will communicate with local public health officials and direct you how to receive further care and/or Coronavirus testing if needed. Please DO NOT delay getting a virtual evaluation.
For more information about Virtual Health, please click here.
UHS Visitor Information - Updated 9/7/23
Updated 9/7/2023
Masking no longer required at UHS
Masks are no longer required when entering UHS facilities, except for UHS Senior Living at Ideal.
You may be asked to wear a mask while visiting some locations in the facility, based on specific individual patient or unit needs.
Although masks are no longer required, they will be available for all visitors at each entrance. This applies to all patients, visitors and staff.
Weapons detectors are for your safety
In an effort to keep everyone at UHS—patients, visitors and staff—safe and secure, UHS has installed weapons detection systems at the entrances of UHS Binghamton General Hospital and UHS Wilson Medical Center.
Every person entering either hospital is required to pass through the detector, which very quickly determines whether there is a weapon.
Weapons of any kind, except those possessed by law enforcement in the performance of their duties, are not permitted at UHS Hospitals facilities.
UHS is committed to keeping people safe as they come to us for care or work within our walls.
We appreciate your understanding and cooperation with this important safety measure.
Inpatient Visitation
Medical and Surgical Units: Flexible subject to patient's need for treatment and periods of rest. If there are 2 patients in the room, visitors will be asked to leave at 8:30 p.m. to provide privacy and rest for both patients. Visiting hours are 10:00 a.m. to 8:30 p.m.
CVICU and ICU Units: Flexible visiting for family or for Personal Representatives based upon the patient's nurse's/physician's discretion. Visiting hours are 12:00 p.m. to 8:30 p.m.
All other visitors are at the Charge Nurse's discretion.
No children under 12 years.
Labor and Delivery:
Labor coach, spouse and Personal Representative age 14 and older.
Maternity: Visiting hours are 12:00 p.m. to 1:30 p.m. and 2:30 p.m. to 8:30 p.m.
Significant others anytime.
Parents and grandparents - as designated by the patient, but not to exceed 3 visitors at any time.
Siblings of infant will be permitted. Visitors designated by the parent(s) age 14 and older may visit with the parent(s).
NICU:
Parents may visit at any time with the exception of:

During physicians rounds from 10:00 a.m. - 11:00 a.m. daily

Visitors, including siblings, designated by the parent(s) age 14 and older may visit with the parent(s).
Pediatrics:
Parents anytime - one parent may spend night with child in room. Overnight visitation accommodations must be requested in advance. Such a request may be arranged with the Nurse Manager.
Psychiatric Unit (Krembs 3 and 5, Memorial 5):
Monday - Friday: 12:00 p.m. - 1:00 p.m. and 5:30 p.m. - 8:30 p.m.
Weekend and Holidays: 12:00 p.m. - 8:30 p.m.
Please call unit prior to bringing young children to visit. Memorial 5 is restricted to children over age of 14 years.
New Horizons - Inpatient Rehabilitation
Sunday
1 p.m. - 2 p.m. - Education (Mandatory)
2 p.m. - 3 p.m. - Visiting Time
Rehabilitation (Krembs 4):
Flexible visitation based on patient designation and discretion of patient's primary nurse, charge nurse, and physical therapist to ensure that patient participates in rehabilitation therapy sessions and necessary treatments.
Primary Care Clinics/Outpatient Treatment Areas:
Patient may choose to have one Personal Representative accompany them during appointment/visit with Provider/Healthcare Staff.
Patient may have one Personal Representative/Support Person present for Pre/Post Procedure period for same day surgery.
Both parents will be permitted for pediatric patients.
Emergency Departments:
One Personal Representative/Support Person will be permitted bedside.
For patients in waiting areas, Personal Representatives/Support Persons will be limited as determined appropriate by the Charge or Triage RN.
Both parents will be permitted for pediatric patients.
Discharge of Patients:
Individuals may pick-up discharged patients at the designated Main Entrance.
Visiting Hours
UHS Wilson Medical Center
Baldwin Street Entrance – 7 days per week; 10 a.m. to 8:30 p.m.
UHS Binghamton General Hospital
Mitchell Avenue Entrance – 7 days per week; 10 a.m. to 8:30 p.m.
UHS Chenango Memorial Hospital
Hospital visitation is open daily from 10 a.m. to 8 p.m.
UHS Delaware Valley Hospital
Hospital visitation is open daily from 10 a.m. to 8:30 p.m.
Only two visitors are allowed at one time.
Visitors must be 12 years or older
If you feel you have extenuating circumstances, please call 607-865-2100 and ask for the nursing supervisor.
UHS Senior Living at Ideal
Visitation for the Skilled Nursing Facility and Residential Care Facility is recommended between the hours of 8 a.m. and 7 p.m.
Skilled Nursing Facility:
Negative COVID test required prior to visiting, if you come multiple times per week you are required to test 2 times per week.
Masks must be worn at all times in the facility.
Entertainers must remain masked at all times.
Visitors are only to go directly the resident room and not visit in the common areas.
Pets can only visit their specific family member.
Residential Care Facility:
Testing is not required, however the rest of the above guidelines for the Skilled Nursing Facility apply.
Visitor Management
Consistent with the UHSH mission to provide a safe environment for patients and staff, visitor management will be in place 24 hours a day/7 days a week at the Emergency Department and main entrances at UHS Binghamton General Hospital and UHS Wilson Medical Center.
Persons visiting UHSH will be requested to present a government issued identification to gain access to the hospital. If a person does not provide such identification, demographic information will be gathered.
Where applicable, visitors will be screened by Security staff for the presence of weapons with the use of walk through metal detectors.
Visitors will be issued a visitor pass. The visitor pass will display name of visitor, department visiting, day of week and date. The visitor pass must be displayed at all times while in the hospital.
The Emergency Department will be the only public entrance accessible from 9:00 p.m. to 5:00 a.m. at UHS Binghamton General Hospital and UHS Wilson Medical Center. Visitors will be escorted by Security personnel to the area they are visiting.
COVID-19 and Antibody Test Pricing
At all UHS locations, the self pay cost for Coronavirus testing and Antibody testing is $176.72 per test. If you need financial assistance, please contact UHS customer service at (607) 770-0025 or our financial advocates directly at (607) 763-6127.
| CMS CPT Listed Codes | UHS Mapped Billing CPT Code | Charge Amount |
| --- | --- | --- |
| 87635 | Coronavirus Testing | $176.72 |
| 86769 | Coronavirus Antibody Testing | $176.72 |
Suffering or recovering from COVID-19? This exercise may help!
Many patients who contract COVID-19 experience significant breathing problems. A very simple exercise, called the "Arm Swing Exercise" has proven to improve health and lung function if performed on a regular basis for several weeks. It is simple to do and can easily be accomplished in your own home. Please see this simple video instruction below.
Click here for an instructional printout.
Updates from NYS and National Health Organizations
New York State Dept. of Health:
NYSDOH Coronavirus Hotline:
Centers for Disease Control:
World Health Organization:
National Ebola Training and Education Center: