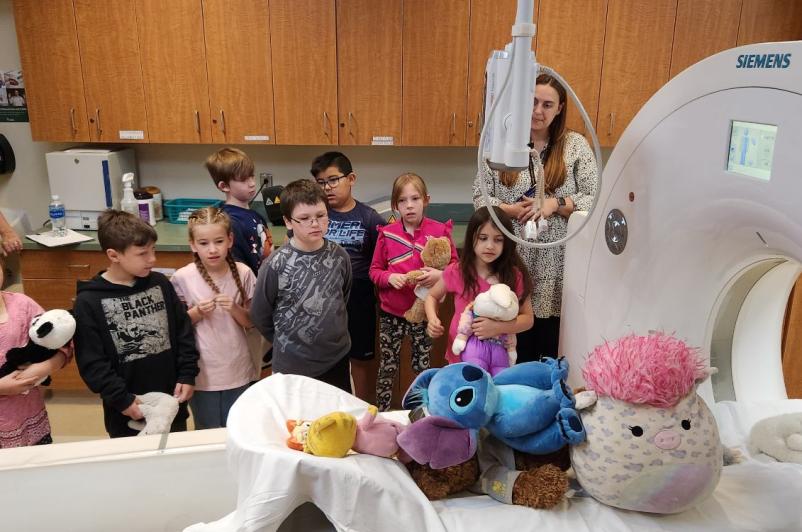 UHS Delaware Valley Hospital holds Teddy Bear Clinic
May 22, 2023
UHS Delaware Valley Hospital staff members were excited to be able to welcome approximately 150 second-graders to its Teddy Bear Clinic. The objective is to help reduce potential anxiety children may experience if they or a loved one needed care, by having them become somewhat familiar with the sights and some of the equipment that may be used in their care.
Students from Walton, Hancock, Downsville, Roscoe and Livingston Manor all took part in the event. In the Emergency Room (ER), RNs Laurie Gross and Mary Doig explained what you do when you come to the ER, and what healthcare workers are there to take care of them. They learned about a lot of ways to stay healthy and how to prevent injuries by wearing safety gear such as helmets, knee pads and elbow pads.
In the imaging center, students were able to get some hands-on experience with radiologic technologist Nancy Fuller and Kyle Jones, as they showed the kids how the x-ray equipment and the CT scanner works. Nancy even took a stuffed Rottweiler and gave it an x-ray, showing the dog had eaten a huge turkey leg and a matchbox car!
Shawn Kauffman, RN had the kids care for a bear who fell off his bike and had a head injury and other cuts and scrapes. All the kids, with gloved hands, had an opportunity to care for the bear in some way.
The Walton Emergency Squad and Delaware County Sheriff's Department also joined DVH for the day. The paramedics with Walton Emergency Squad had the kids walk through the ambulance, seeing the equipment and how it is set up. They also explained what squad members do when caring for patients and how to properly call 9-1-1 for real emergencies.
Corporal Kyle Karcher and his K9 partner, Eli, came and performed some demonstrations for the crowd. Corporal Karcher was able to show students how Eli can obey either voice or hand signal commands. He explained that Eli is trained to find drugs, but also can help find lost people, by picking up their scent from an object they touched or piece of clothing they wore. The kids also learned what to do if they get lost.
A huge thank you is due to everyone including DVH employees and all of the outside agencies that helped make the Teddy Bear Clinic a success.