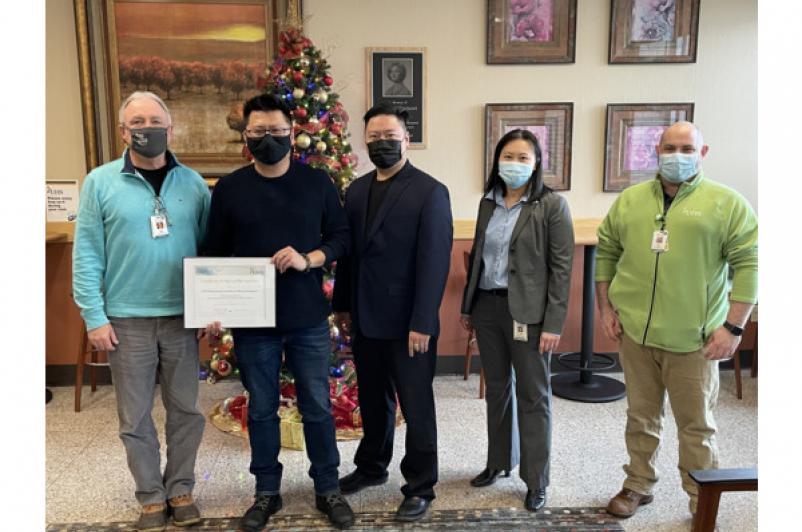 Thanks to Teng family, thousands of masks come to UHS
December 23, 2020
UHS has increased its supply of COVID-19 masks, thanks to a family connection and a generous donation that links medical supply companies on Long Island with UHS' warehouse in the Southern Tier.
Earlier this month, UHS physician Ann Teng, DO, MPH, learned that BTZ Medsolution, a medical supply distribution company, would be donating half a million masks to hospitals and individual citizens in need.
She contacted Sam Teng, chief executive officer of the company, who also happens to be her brother, and suggested that UHS could use some of those masks for front-line staff.
Ted Teng, Ann and Sam's brother who serves as director of Corporate Social Responsibility at BTZ, noted: "We told our sister, OK, you don't get just a chunk of the pie, you get a whole pie of your own."
So on Dec. 23 Sam and Ted personally delivered 100,000 ear-loop masks and 10,000 N95 masks from Long Island to UHS Hospitals in Binghamton.
"We at UHS are very appreciative of the Teng family and their commitment to the safety of our front-line staff and the patients they care for," said John Carrigg, president and chief executive officer of UHS.
The masks were made by Konye Medical Supplies, another New York City-area firm that is working with BTZ to provide masks free of charge to institutions and persons who need them.
"Through our partnership with Konye, we are identifying areas of need and distributing the masks," Ted said. "For example, to date we have supplied 100,000 pediatric-sized masks to a children's hospital, and have worked with elected officials to get masks to people in low-income areas of the New York metropolitan area."
Dr. Teng, who serves as medical director of Occupational and Environmental Medicine at UHS, said she is proud of her brothers and their commitment to projects like the mask donation.
"This will definitely extend our staff's ability to care for our patients in a safe manner," she said.
Sam and Ted unloaded the masks to members of the Supply Chain team at the UHS Binghamton General Hospital loading dock on Dec. 23.
John Carrigg presented Ted with a "Special Certificate of Recognition" to honor the donors for their contribution.
Sam and Ted noted that BTZ and Konye are companies on a mission to be good corporate citizens and engage in meaningful acts of social responsibility.