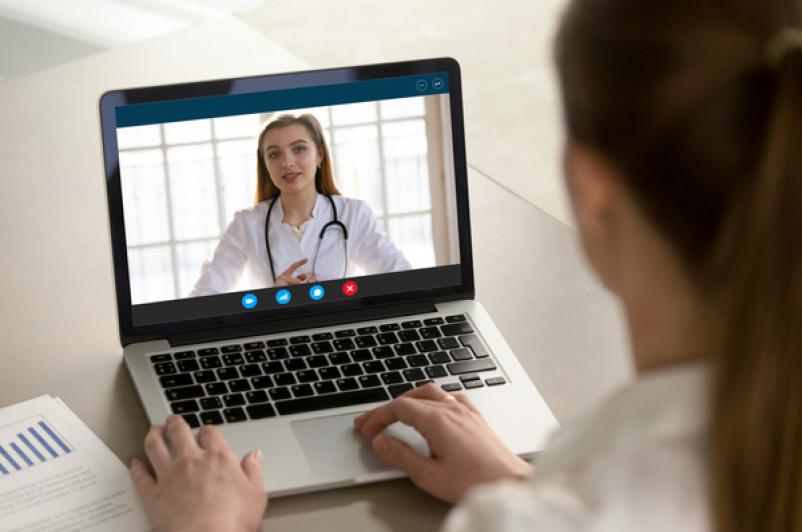 COVID patients recover with 'Hospital Care at Home'
February 11, 2021
Thanks to the evolving world of virtual care and a solid commitment from United Health Services' providers and staff in Greater Binghamton, the old-fashioned physician house call has made a modern comeback for certain COVID-19 patients.
UHS has launched "Hospital Care at Home," a program developed by a clinical team at United Health Services Hospitals that allows the COVID-19 patient who also has another underlying condition to convalesce at home, under physician supervision, after the person has been discharged from the hospital.
The option is better for the patient, giving them a chance to receive care in the familiar, comfortable surroundings of their own home, and better for the institution, freeing up hospital beds that are needed for other patients during the ongoing pandemic.
"This benefits our patients by allowing them to receive tailored medical treatment, including access to medical care from our Hospital Care at Home team and other sources," said Kim Brady, RN, System director of Care Management and a principal organizer of the program. "To a large extent we modeled it after a similar, successful program at Endwell Family Physicians."
"The program requires a family member or someone else at home to serve as the patient's support person," said Frank Eder, MD, lead provider at UHS Primary Care Upper Front Street and a participating physician in Hospital Care at Home. "The support person's role is to assist with the virtual visits and medication, and help the provider keep an eye on the patient's health status and progress."
"It's preferable for the home to have a computer with a camera and Internet access, but the patient can be monitored just as well over the telephone alone," he noted.
In most cases, the only medical equipment needed at bedside are a thermometer and a pulse oximeter, which the hospital provides.
A total of 45 patients have been admitted to the program to date. Typically they are discharged from the home monitoring after seven days if they are doing well, and are then referred back to their own primary care provider for any follow-up care needed.
The patients eligible for Hospital Care at Home are recovering from COVID-19, but also have another pre-existing condition, such as congestive heart failure, chronic obstructive pulmonary disease, high blood pressure, diabetes or obesity.
Providers who are seeing patients via Hospital Care at Home are from UHS' primary care practices in Deposit, Upper Front Street and Binghamton Internal Medicine, as well as the Medical Residency Programs.
Dr. Eder noted that if recovering COVID patients can be safely discharged home from the hospital a few days early, more beds are then available for sicker patients who need them. Moreover, patients who are getting over COVID are happier to recover in the comfort of their own homes.
John Giannone, MD, lead provider at UHS Primary Care Deposit and another physician participating in Hospital Care at Home, said the effort clearly benefits patients, their families and the hospital.
"The goal is to keep the patients in their homes or bring them back to their homes," he said. "We have been able to meet these goals because we had the infrastructure, providers and team to accomplish it."
Program leaders have received positive, enthusiastic feedback from patients since Hospital Care at Home was launched.
One patient, 64-year-old John Lodge, said he was on the Hospital Care at Home option for about five days after he was discharged from UHS Hospitals.
"Knowing that I would be video-chatting at home with my doctor every day at 4 p.m. took away a level of worry and fear," he said. "It eliminated stress while I was recovering and allowed me as a patient to feel comfortable."
Mr. Lodge, an engineering manager with Lockheed Martin Corp. in Owego, said he contracted the disease in early January and was in the hospital for about four days.
His COVID-related symptoms were primarily a cough, headache and sore throat, but he was also diagnosed with atrial fibrillation, a heart condition, which prompted Dr. Eder to recommend that he be hospitalized. After discharge, he immediately went on Hospital Care at Home.
"It was wonderful," he said. "Kim Brady called me every day, and I had the daily video chat with Dr. Eder, so I could ask any questions I had at that point. If I called them with a question, their response time was fantastic."
He said that thanks to the care he received, he's feeling much better now and is back to his regular routine of working from home.
Said Ms. Brady: "The program is really an extension of hospitalization, allowing the recuperating patient to recover in the comfortable, familiar surroundings of home and opening up capacity in the hospital for incoming patients who are more critically ill."