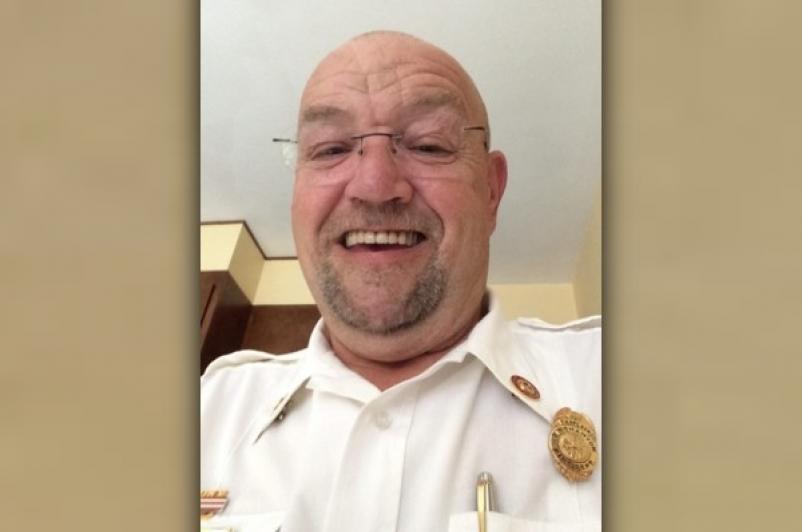 Beloved chaplain Father Corey leaving UHS after 33 years
June 30, 2021
A pastor who has ministered to the people of UHS with grace, devotion and humor for more than three decades will be leaving the organization this week to begin a new parish ministry.
The Rev. Corey Van Kuren, 70, became director of Pastoral Care at UHS Hospitals in 1988 following the sudden death of the Catholic chaplain at the hospitals at that time.
"I was asked by the diocese to take on the role temporarily," Father Corey said. "Temporary has lasted 33 years."
In that time he has ministered to countless patients, patients' family members and members of Team UHS, offering comfort and imparting his strength and that of his Lord's to those in need.
"People often ask me why I don't get burned out, with all of the suffering and death I've seen," he said. "Yes, I've seen my share of very sad cases. But I also point out to them that I've witnessed the births of many babies, and have seen people healed and made whole."
He added, "In healthcare ministry, you have to keep in mind that there is healing and new life, that giving people genuine hope is a big part of what happens in a hospital."
Father Corey has worked under the tenure of five chief executive officers of UHS, and has become friends with many employees, providers, leaders and volunteers at the hospitals.
"For a number of people on our team at UHS, I have performed their weddings, baptized their children and officiated at their parents' burials," he said. "UHS has been wonderful. I am grateful for the experience I've had working with everyone--the nurses, housekeepers, cafeteria people—everyone in all the departments of the organization."
He said it's important for a young person considering a chaplaincy ministry to go into it only if they are "coming from a place of spirituality."
"It's not a job or a career, it's a ministry," he said. "You minister to people of all faiths, meeting them where they are in their spiritual lives. And it's important to be present. To minister, you don't necessarily even have to say anything—just be present."
Born and raised in the Southern Tier, Father Corey received his education at Saint Anselm College in Manchester, N.H., and Maryknoll Seminary in Ossining, N.Y., and studied canon law at Catholic University in Washington, D.C.
For a number of years he was a Franciscan religious brother in locations from New York City to Boston to New Hampshire.
Poking fun at himself, he joked: "You might say I couldn't hold a job."
He said his interest in the ministry began when, as a young altar boy at a church near UHS Wilson Medical Center in Johnson City, he would serve every day at what was called the "nurses' mass," a service held at 6:45 a.m. and typically attended by nurses on their way to work at UHS Wilson.
"I believe the Lord used that experience to call me into a healthcare ministry," he said.
His connection to the hospital began even before that, he noted.
"Actually, I was born at Wilson Hospital, and when I left through the Baldwin Street door today, I thought, well, you didn't get very far in the world!" he said.
As he badged out for the final time, the time-clock wished him a happy anniversary. It was then that it dawned on him that his last day at work was the 33rd anniversary of his first day at UHS.
"I was walking out the same door I had walked in years ago," he said. "It brought a tear to my eye."
Father Corey is highly esteemed by everyone who has come to know him, at UHS and beyond, a beloved and calming presence on nursing units and in people's lives. For decades he has been a sought-after speaker at the UHS Board of Directors' holiday party, the Employees' Service Awards Dinners and other similar events, offering invocations and reflections.
He has always taken his ministry very seriously, but has never particularly taken himself that way, sprinkling his remarks with self-deprecating anecdotes or amusing stories that have become one of his trademarks.
His words were always carefully chosen to offer heartfelt encouragement to those in his audience who work in the complex, demanding and often-stressful world of healthcare, while at the same time incorporating a lighter note.
He said that humor is just part of his natural personality, and that leaders have asked him to continue speaking at UHS events.
He does plan to be busy after retiring from the hospitals, however, as his bishop has assigned him to serve as pastor of three upstate New York parishes: Marathon, Whitney Point and Cincinnatus.
When asked to comment on his decision to leave UHS, his humor again became evident.
"I say if you haven't figured out how to do it right in 33 years, it's time to move on!" he said with a laugh.
On a more serious note, he said he is grateful for everything he has experienced and learned at UHS over the years, and for the wonderful people with whom he's interacted.
"You really are rewarded more than you give," he commented. "I grew a great deal as a pastor and as a person, and how grateful I am for the ministry that has gotten done."