New Emergency Dept. and Walk-In Center now open UHS Chenango Memorial Hospital
The new Emergency Department and Walk-in Center are now open and seeing patients at UHS Chenango Memorial Hospital in Norwich. Learn more about the new facilities.
Learn More >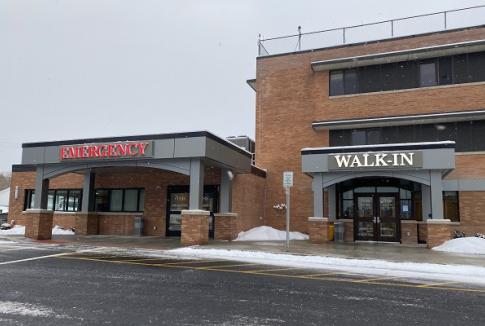 About UHS Chenango Memorial Hospital
Overview
UHS Chenango Memorial Hospital
179 North Broad Street
Norwich, N.Y. 13815 (map)
UHS Chenango Memorial Hospital includes inpatient and outpatient surgical care units, a women's health center and a maternity and obstetrics unit. The hospital staffs an intensive care unit, general surgery, cardiology, diagnostic heart care center, orthopedics, diagnostic imaging and laboratory departments as well as a 24 hour physician-staffed emergency care department for the Norwich and Chenango County community. Other specialties at our medical clinic include GI (gastro-intestinal/gastroenterology), Podiatry and an Oncology treatment and infusion center. The hospital's second floor is specially designed with a senior living center and a wing dedicated for short-term rehabilitation.
UHS Chenango Memorial Hospital also provides services at a walk-in center, an outpatient diagnostic imaging center and a freestanding physical therapy center.
The hospital's primary care network is the county's central source for preventative and routine medical care. With primary care centers in Sidney, Sherburne, Oxford and Norwich, patients in rural areas have nearby access to quality primary care.
The New Emergency Department and Walk-In Center are open and seeing patients at UHS Chenango Memorial Hospital.
Services at this Location
Administration
Most of the Administrative offices are located in the Newton House, which sits on the front left side of the hospital.  The main entrance is on the North Broad Street side of the building.  Parking for the Newton House is available in the hospital's front short term parking lot.
Billing/Patient Advocate
UHS Chenango Memorial Hospital Billing Office
Norwich, NY 13815
(607) 770-0025
Patient Financial Advocate
179 North Broad Street
Norwich, NY 13815
(607) 337-4512
UHS Chenango Memorial Hospital is committed to providing the best care available at the best value for our patients. UHS Chenango Memorial Hospital recognizes that hospital expenditures are often unplanned. In order to assist you, our Patient Financial Advocates have been trained to help patients in a prompt, courteous, and efficient manner.
We are proud of our charity care/financial aid policy. Our Patient Financial Advocates work closely with patients who are uninsured or who may have challenges regarding payment of medical bills. The advocates are able to assure our patients that their health comes first and we will work with them to fit a plan around their ability to pay.
In regards to insurance coverage, we require payment of deductible and private room differential at the time of admission. After insurance verification, should any additional deposit be required, we will contact you at a convenient time during your stay. In the event of no insurance coverage, our Patient Financial Advocate will meet with you to discuss any additional deposits and payment arrangements.
After discharge, you will receive statements with your estimated portion to pay based on the information we have obtained from your insurance carrier. We gladly accept your estimated portion in full, or if necessary, help arrange monthly payments for your portion until your insurance pays. Any portion of your stay not covered by insurance will be due within 30 days.
The hospital will file insurance claims for all inpatient and outpatient services, and for Medicare/Medicaid claims. The patient or chosen guarantor is ultimately responsible for payment of bills. These financial policies are designed to help the hospital meet its financial obligations and to help control the cost of health care for everyone.
Insurance Pre-Authorization/Discharge
Many insurance policies now require your hospital stay to be pre-authorized (pre-certification). This is the responsibility of the patient and the patient's doctor. We are able to assist you in this effort, but the responsibility remains with the patient. If you are uncertain about the status of your pre-certification while you are in the hospital, you should call your insurance provider for verification. If your insurance pays reduced benefits because this pre-authorization was not obtained or all days were not approved, you are expected to pay the balance.
Additional Services Billed Separately
You may have additional services that are not billed or collected by the hospital. These services may include the radiologist, pathologist, anesthesiologist, and oncology services.
Pathology (Lab) Billing Office
(2 separate bills)
CMH Technical Component
Professional Component
United Medical Associates
346 Grand Ave.
Johnson City, NY 13790
(607) 770-0025
Oncology Billing Office
(607) 337-4017
Medical Records
Chenango Memorial Hospital's Medical Records Department is responsible for securely maintaining and distributing patient records and histories. Over the next several years, the medical records department will be transferring all records to a computer based format. Then all medical records will be able to be transferred instantly when required. Please call the medical records department with transfer requests or general questions.
Social Services
The Social Services Department at Chenango Memorial Hospital is a valuable resource, helping those with emotional needs and struggles. Most insurances are accepted by the social services department, which offers a variety of treatment and meeting options. Topics covered by social services are:
Suicide
Loss of a loved one
Issues caused by stress
Life's everyday pressures
Alcohol
Drugs
Family issues
UHS Senior Living at Chenango Memorial
UHS Senior Living at Chenango Memorial
179 North Broad Street
Norwich, NY 13815
(607) 337-4019
Accredited by the Healthcare Facilities Accreditation Program, our 80-bed Senior Living Center is located on the second floor of UHS Chenango Memorial Hospital. The Senior Living Center offers a complete array of services including long-term care with skilled nursing and short-term rehabilitation. This type of around-the-clock, hospital-based nursing care provided in a friendly, home-like environment offers many advantages, including convenience and family peace of mind.
In 2019 the Senior Living Center was awarded five stars in the most recent ranking by the Centers for Medicare and Medicaid Services. A five star rating are particularly notable as CMS recently announced changes to their quality rating system, which issues ratings for over 15,000 nursing homes around the country. Chenango Memorial is the only facility in Chenango County to receive a 5 star rating.
The Senior Living Center offers a variety of services to make the lives the residents fulfilled and comfortable. A busy activities department provides individual and group activities seven days a week, plus special events and holiday celebrations. Families and community members are always welcome to participate.
Our residents thrive because they're comfortable in this safe and caring environment. Our staff ensures that each individual achieves and maintains the highest level of wellness and independence possible. Our residents' loved ones can be certain that our staff is providing the kind of care they would provide personally if they could.
Services offered include 24-hour skilled nursing care; physical, occupational and speech therapy; a restorative nursing program; Hospice services; social work services; and an activities program seven days a week.
For additional information or to arrange a tour, contact Sue Martin, BSW at 337-4019.
UHS Chenango Memorial Hospital Foundation
The UHS Chenango Memorial Hospital Foundation was established in 1985 for the sole purpose of generating funds for the hospital to use in providing health care in Chenango County. To that end, the Foundation seeks and manages public and private funds from individuals, foundations, corporations, civic organizations and governmental agencies to support UHS Chenango Memorial Hospital activities in Chenango County.
HFAP accreditation
UHS Chenango Memorial awarded HFAP accreditation
(July 2022)
UHS Chenango Memorial Hospital has been awarded accreditation by the Healthcare Facilities Accreditation Program, the nation's original, independent accreditation program recognized by the Centers for Medicare and Medicaid Services.
Accreditation confirms that UHS Chenango Memorial is providing high-quality care as determined by an independent, external process of evaluation.
"We're proud to achieve this prestigious accreditation," said Drake Lamen, MD, president and chief executive officer of the Norwich, N.Y.-based hospital. "Earning HFAP accreditation is a significant achievement that recognizes our commitment to providing outstanding care to our patients and our community. In fact, quality is consistently the priority focus in our strategic plans and goals."
Meg Gravesmill, chief executive officer of the Accreditation Association for Hospitals/Health Systems, HFAP's nonprofit parent company, noted: "UHS Chenango Memorial clearly demonstrates a commitment to quality and patient safety. We base our decision on the findings of an extensive and thorough on-site review of the hospital against recognized national standards for patient safety, quality improvement and environmental safety."
Continuing, she commented: "UHS Chenango Memorial has earned the distinction of HFAP accreditation through its performance in successfully meeting those standards."
Based in Norwich, UHS Chenango Memorial is a community hospital and senior living facility serving Chenango County and environs. A member of the UHS healthcare system, it offers emergency care, inpatient and outpatient medical and surgical services, and a wide-range of specialty services.
HFAP is a nationally recognized program of the Accreditation Association for Hospitals/Health Systems, offering accreditation and specialty certifications to serve a range of healthcare organizations.
Originally established in 1945, HFAP is the original healthcare accreditation program in the United States. HFAP holds deeming authority from the Centers for Medicare and Medicaid Services and also is recognized by state governments and regulatory bodies, and insurers.
HFAP's mission is to be the valued partner for healthcare organizations committed to improving their quality of care, through accreditation/ certification standards and continuing education, with a focus on advancing the health and welfare of their communities.
For more information, visit www.hfap.org.