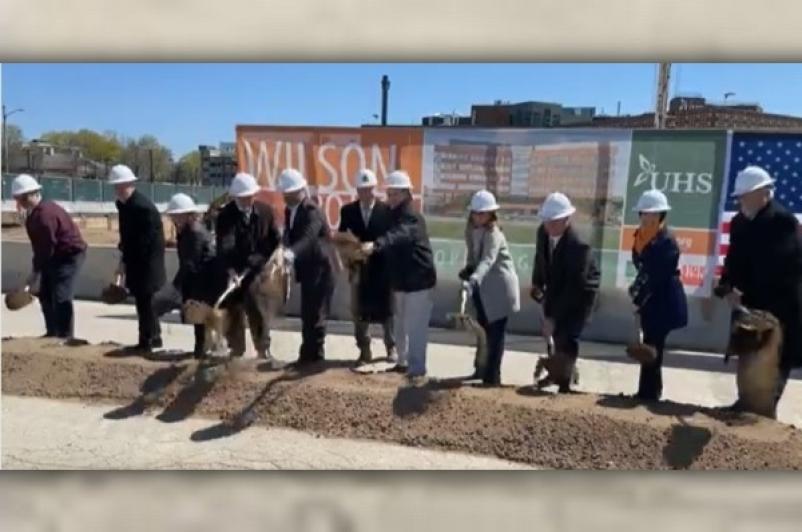 Wilson Project will create new clinical tower in Johnson City
April 28, 2022
Ground was broken in Johnson City April 28 to launch construction of the new Wilson Project on the campus of UHS Wilson Medical Center.
A groundbreaking ceremony and news conference took place at 2 p.m. at the construction site on Main Street.
The Wilson Project represents a major step forward in the enhancement of UHS Hospitals' facilities, as the not-for-profit UHS healthcare system continues to build the future of care and service in the Southern Tier.
The project will develop a new, six-story, state-of-the-art clinical tower at UHS Wilson, adding 183,375 square feet of space to the existing hospital.
This is one of the largest capital projects UHS has ever undertaken and the first expansion of the Johnson City campus in more than 30 years.
The building will include four inpatient medical/surgical units with 30 private rooms each.
Facing Main Street, the tower will be the "front door" to UHS' services going forward, and will feature a new emergency department and trauma center, magnetic resonance imaging suite, surgical support area and rooftop helipad, in addition to the much-needed private patient rooms.
"Most importantly, the goal of the Wilson Project is to create an exceptional patient experience and enhance patient satisfaction with our medical and surgical services," said John M. Carrigg, president and chief executive officer of UHS.
Construction will be done in three phases, with completion set for Summer 2025.
In financial support of the project, the UHS Foundation has launched the Journey Campaign, a capital campaign to raise $10 million in donations for the new tower.
To date, $5.4 million has been raised, thanks to community generosity.
To learn more about the Wilson Project, click here.