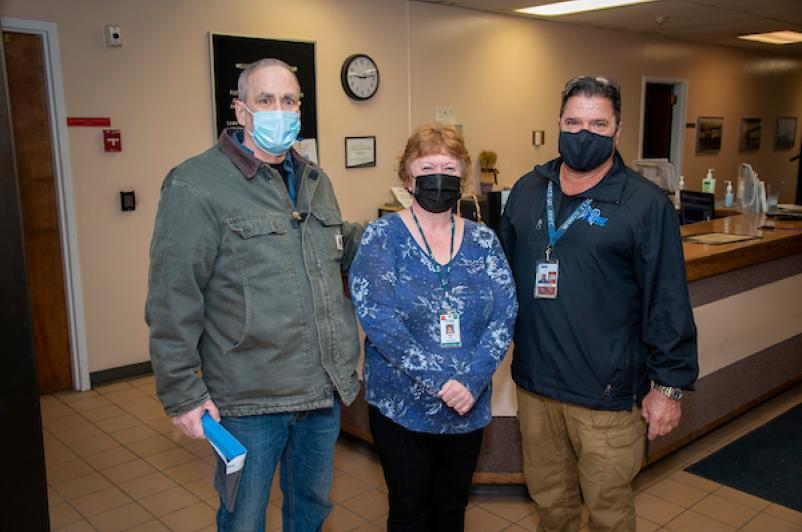 UHS Primary Care Endicott gives patient Wings
March 04, 2021
When Bill Dalton's UHS doctors told him the Cleveland Clinic would be the best place for him to receive highly specialized care for his very complicated lung condition, Mr. Dalton's first thought was, "How can I ever get there?"
But the team at UHS Primary Care Endicott sprang into action, making arrangements through two charitable organizations to fly Mr. Dalton to Cleveland for treatment.
"Tammi Scales, our referral specialist, was able to get Bill an appointment at the Clinic in 3 ½ weeks, which is very fast," said Caren Bush, wellness coordinator in the Endicott office. "I then reached out to Stephanie Button at the Rural Health Network's Getthere program and asked for her assistance."
Getthere coordinated free taxicab rides for Mr. Dalton, so that he could get to and from the Greater Binghamton Airport and, once in Cleveland, back and forth from a private-plane airport and the Clinic.
In addition, Ms. Bush and Ms. Button got in touch with Wings Flights of Hope, a Buffalo-based charity that provides free air transportation by volunteer pilots for people who need to travel for medical or humanitarian reasons.
At about 10 a.m. on March 4, Mr. Dalton and a friend, Mike Decker of Binghamton, left the First Air runway in Binghamton for the trip to Cleveland in a Piper Malibu six-seater piloted by Wings founder Joe DeMarco.
Mr. Dalton was scheduled for a medical appointment at the Clinic, then a return flight to Binghamton later in the day with Mr. DeMarco.
He said his respiratory illness makes every day a struggle, and expressed his appreciation for the people who made his unique visit to Cleveland possible.
"This, to me, is like a miracle," he said. "I was asking 'How?,' and then I talked to Caren and she kicked it off for me and got this arranged. I'm very grateful."
Ms. Bush credits the partnership between UHS Primary Care Endicott, Getthere and Wings with making the extraordinary trip possible.
"Stephanie from Getthere has worked relentlessly to assist the patient, finding the flight company and arranging for the cab rides," Ms. Bush said. "She and I and Amanda Wolanske, mission coordinator at Wings, talked often to update each other. It's been a great collaboration."
An intrepid pilot, Mr. DeMarco noted that he and other pilots who are part of his organization fly 350 to 500 similar free medical missions a year to many U.S. locations. The cabin of his Piper is pressurized, which adds to passenger comfort, and is sanitized before each flight, to protect those with medical issues.
He said he has gotten great satisfaction over the past 17 years in flying people of all ages to life-saving and life-enhancing medical appointments, treatments and procedures.
"They would not be able to get to these appointments otherwise," he said. "When you see the difference it makes in their lives, you know why we do it."
Watch the Facebook Live UHS Community Relations conducted with UHS Primary Care Endicott Wellness Coordinator Caren Bush below: