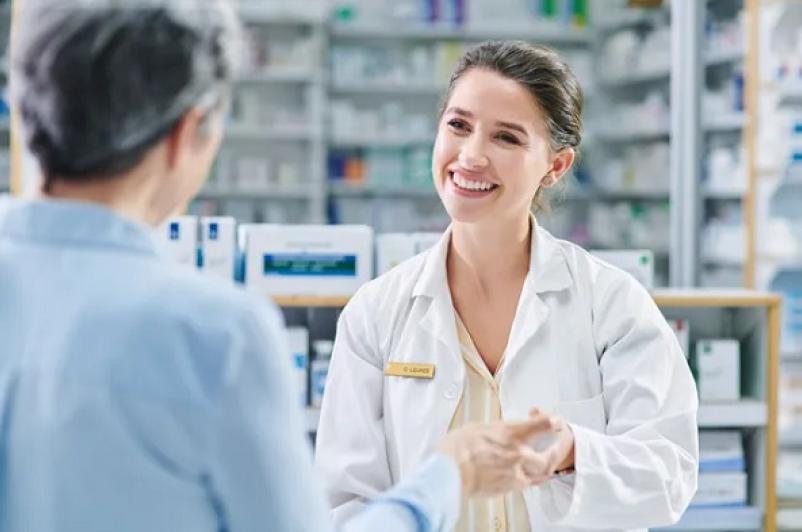 UHS' pharmacy services meet patients' specific needs
February 06, 2023
While some pharmacies around the country are cutting hours, UHS has expanded to accommodate patients' needs, whenever and wherever those needs arise. Southern Tier residents can get their prescriptions filled at a UHS pharmacy that's quick, convenient and open 24 hours a day. UHS Pharmacy Wilson Place offers retail pharmacy services to the public around-the-clock. The Wilson Place location is the closest 24-hour pharmacy to local hospitals, making it helpful for patients who are leaving one of the emergency rooms or being discharged after hours and in need of a prescription.
William Waldron, RPH, MHA, community practice director of the UHS Pharmacy Department, said: "This allows us to offer necessary services to more people in the community, to outpatients and to hospital patients who are being discharged, no matter what time they're ready to go home." Located on the ground floor of 52 Harrison St. in Johnson City, the pharmacy is just across the street from UHS Wilson Medical Center. Parking is available nearby.
UHS pharmacies have what is called an open formulary, which means the most commonly used medications are available, with next-day access to other items available through UHS' pharmacy wholesaler. The pharmacy typically can turn around a prescription in 30 minutes or less for patients leaving a physician appointment, those being discharged after a hospital stay or those with other acute needs.
Patients can be alerted that their prescriptions are ready by automated phone call or, if enrolled, via notification from UHS' MyChart. For less-common medication needs, UHS offers a specialty pharmacy service for individuals who need medications not typically available at a retail pharmacy. UHS pharmacies process all insurances, and can help patients access financial assistance if needed.
UHS currently operates five retail pharmacies across the Southern Tier that are open to the public. These locations offer a wide range of prescription medications, along with convenience and friendly, knowledgeable service. The five pharmacies are at UHS Vestal, UHS Endicott, UHS Wilson Place, UHS Binghamton General Hospital and UHS Delaware Valley Hospital.
UHS' full-service retail pharmacies accept prescriptions from any provider and stock the most popular over-the-counter items, so patrons can pick up cough drops, aspirin or similar products when stopping in for their prescription medications. Standard medications are available, as well as specialty pharmacy items, such as certain kinds of expensive, limited-distribution drugs not used by many patients. These services can include drugs for multiple sclerosis, HIV, cancer, hepatitis C, rheumatoid arthritis and other conditions.
Patient education is an important part of the UHS Pharmacy Department's mission, and it is conducted confidentially by highly knowledgeable pharmacy professionals. "One of our goals is to keep patients out of the emergency room," Mr. Waldron said. "A top reason for readmissions to the hospital is a lack of knowledge about medications. Pharmacist-supervised drug reconciliation and patient education play a huge role in medication compliance and patient success."
Another feature of UHS' pharmacies is the dispensing of medications using SmartCabinets, a high-tech device manufactured by the Johnson City-based company called Innovation. The cabinets provide counting accuracy, prevent unauthorized access, eliminate cross-contamination and forestall the dispensing of expired medications.
All of UHS' pharmacy locations offer the following:
Complete services that save you time
Prescriptions filled quickly and efficiently
Personalized service
Hospital prescription discharge services available
All major insurance plans accepted
All categories of prescription drugs, plus many specialty drugs available
Many common over-the-counter products
To learn more about UHS Pharmacy Services, click here.