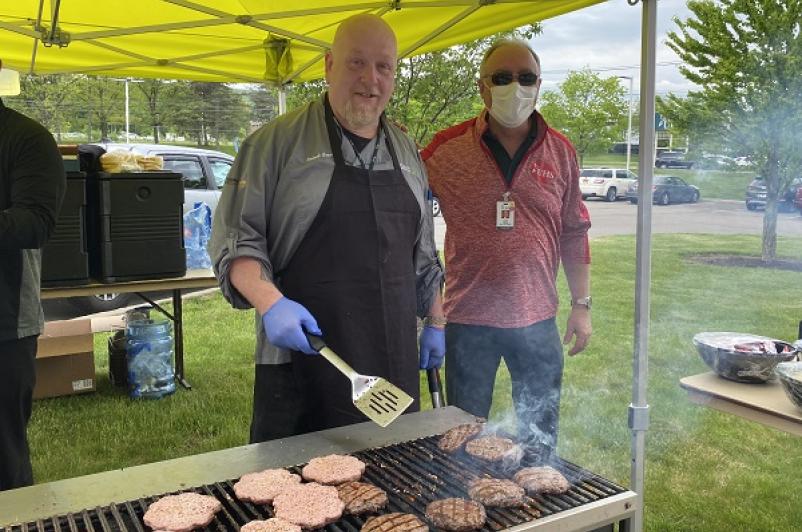 UHS Grill Days: Help every Broome County resident have a Full Plate
June 24, 2022
Outreach to those in need in the community is part of UHS' mission as a not-for-profit healthcare system, and participation in United Way's Full Plate Project is one important way our organization is helping those who have food insecurity.
Leading the fundraising effort within UHS are Mitzi Sherba, director of Physician Practice Operations-Primary Care, and Rich Keehle, senior director of Support Services. Sheri Lamoureux, vice president for Human Resources and chief human resources officer at UHS, is chairing the community-wide Full Plate Project, which seeks to raise $100,000 in total to combat hunger.
The problem of hunger in Broome County became more evident than ever before during the pandemic, and has been worsened by the rising cost of goods and services, Sheri noted. "More than 8,000 children in our area live in households that struggle to put food on the table, and families are having to choose between buying groceries and paying the rent," she said. "This is an important time to help those in need."
The UHS effort includes a number of special activities and events for employees, with cash donations benefitting the Full Plate endeavor.
UHS Grill Days to benefit Full Plate Project
Members of the community are invited to enjoy some delicious barbecue cooking while supporting a great cause at UHS Grill Days! This series of events will support the United Way of Broome County's Full Plate Project. The project helps to support local food pantries and CHOW.
UHS Grill Days will be on tour, stopping at several locations across the UHS System. At each stop, lunch will include your choice(s) of entrée: all beef jumbo hot dogs, hamburgers or beyond burgers. Each lunch includes pasta salad, chips and a bottle of water. You can purchase two entrées for $10 or one entrée for $6.
Barbecues will be held at the following locations from 11:30 a.m. to 2 p.m.
Location

Date

UHS Vestal
4417 Vestal Parkway East

Friday, May 20

UHS Wilson Medical Center
Baldwin Street, Johnson City

Wednesday, May 25

UHS Binghamton General Hospital
20 Mitchell Avenue, Binghamton

Wednesday, June 1

UHS Home Care
601 Riverside Drive, Johnson City

Friday, June 17

UHS Lewis Road
33 Lewis Road, Binghamton

Friday, June 24

UHS Senior Living at Ideal
600 High Avenue, Endicott

Wednesday, June 29

ICE-CREAM BARS WILL BE SOLD SEPARETLY FOR $2.00