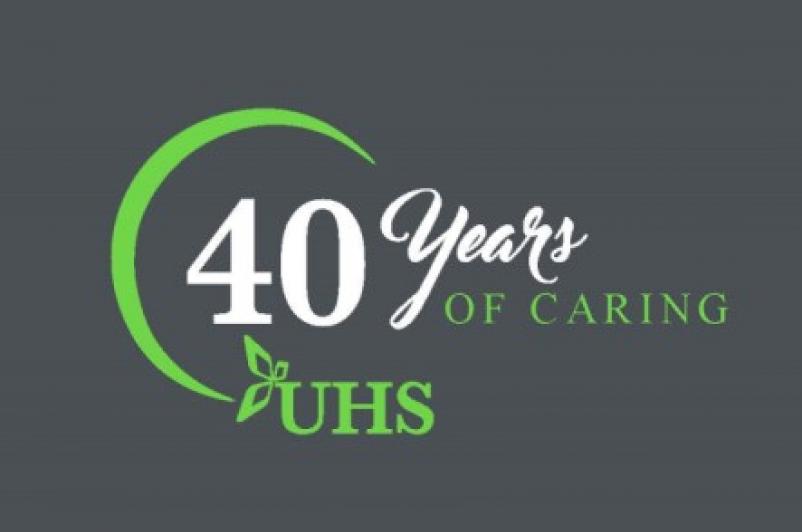 UHS: Four decades of caring
August 04, 2021
"The leaders in our community who came together to form UHS four decades ago did so with great vision, dedication and commitment. Their decisions at the time, and all that we have accomplished as an organization in the intervening years, have led to significant and dramatic advances in care and service for the people of the Southern Tier." -- John M. Carrigg, President and Chief Executive Officer, UHS
Celebrating our first 40 years, and we've only just begun:
The month of August 1981 saw the establishment of a new healthcare system in upstate New York, when three community hospitals joined forces to be transformed into United Health Services (UHS). With the arrival of August 2021, we of UHS are celebrating our 40th anniversary as the Southern Tier's community-owned, community-benefit healthcare organization.
In the span of four decades, we've served hundreds of thousands of people and advanced to become one of the best regional health systems in the country. Along the way, we've learned a lot--about caring, service and meeting the challenges of today and tomorrow for the people of our region. Most importantly, countless individuals and families are leading better lives today because of everything UHS has meant to them.
When leaders in our community first teamed up 40 years ago to try to resolve the Broome County area's hospital challenges, they brought to the table a vision for the future, a willingness to cooperate and an ability to get things done. Through the early leaders' efforts, the hospitals blended into one unified System, improving facilities, consolidating services and providing a spectrum of modern care to the 600,000+ residents of Broome and surrounding counties. Incorporation occurred in 1981, as the Ideal-Wilson Medical Center (Ideal Hospital and Wilson Memorial Hospital) combined with Binghamton General Hospital to become United Health Services (UHS).
In the years since, with exceptional leadership and unwavering community support, UHS was able to achieve many milestones. With the approach of the year 2000, we completed a major renovation project to prepare for the needs of the new century. In addition, with a vision for an enhanced patient experience, we launched open heart surgery and cancer care programs, strengthened our primary care network and regional specialty services, built alliances with other hospitals and providers, added lifesaving new technologies and created a healthcare experience that is remarkable for a community the size of ours. In 2020 alone, we met the unparalleled challenges of COVID-19, adopted the revolutionary Epic electronic health record system and moved forward with an ambitious facility master plan to meet changing patient needs.
It is fitting that now, in our 40th year, through the remarkable vision and leadership of our Board of Directors and the entirety of Team UHS, we have launched major expansions to our healthcare campuses. The Wilson Project, the first major addition at UHS Wilson Medical Center in more than 30 years, will feature four inpatient medical/surgical units with 30 private rooms each, as well as a new emergency department, an MRI suite, a surgical support area and a rooftop helipad. UHS is also proud to strengthen our relationship with Binghamton University and welcome the university's expansion into Johnson City, with the development of the schools of nursing and pharmaceutical sciences near the medical center campus.
When completed, the six-story tower on the UHS Wilson Medical Center campus will enhance patient care and serve as the "front door" to our many clinical programs and services. Likewise, the Chenango Medical Neighborhood in Norwich will create a new emergency department and walk-in service and enhance UHS Chenango Memorial Hospital's ability to provide exceptional patient care to the people of Chenango County.
Through the achievement of our goals, our family of healthcare organizations and providers has succeeded in preserving hometown ownership of our institutions, extended care to those in need and saved area residents tens of millions of dollars by maintaining a cost-effective system. We are proud of our mission as a regional referral center for such high-level medical and surgical services as cardiac surgery, neurosurgery and neurosciences, cancer care, orthopedics, maternity and high-risk obstetrics, neonatal intensive care, ambulatory surgery, physical therapy and rehabilitation, and behavioral health. We are a designated trauma, stroke and chest pain center for the region.
We extend our heartfelt appreciation to all of the patients, residents, families, employees, providers, volunteers, donors, board members, leaders, advocates and citizens who have supported UHS over the past 40 years. Our success in caring for the Southern Tier is made possible because you care enough to stand with us. With your continued help, we look forward to serving the people of our region for many more decades yet to come.
For a timeline of some of the most significant milestones of UHS over the past 40 years, click here.