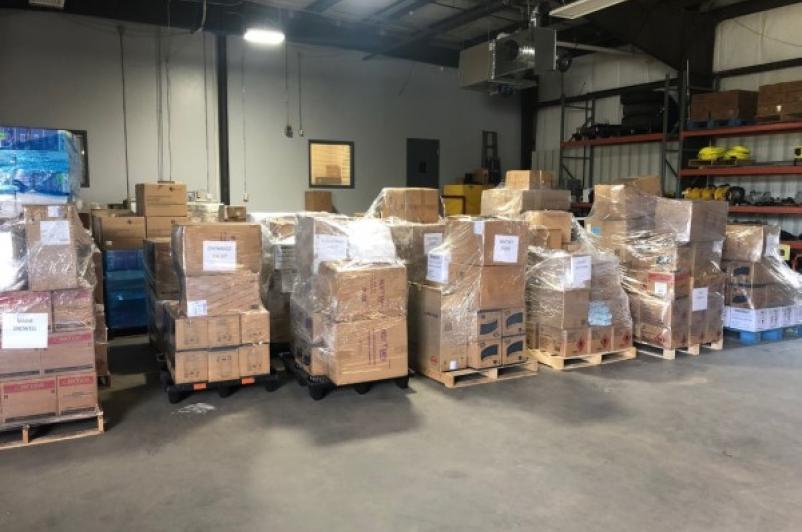 UHS becomes key PPE resource for schools
September 21, 2020
UHS has become a key resource in the Southern Tier's ongoing battle against COVID-19, with schools across Broome and Tioga counties the most recent beneficiaries.
With the help of UHS' teams in Procurement Services and Supply Chain Operations, the schools have been able to buy $128,591 worth of high-quality and reasonably priced personal protective equipment (PPE), said Kristin Saunders, PMP, system director of Procurement Services at UHS.
"A large supply of the previously hard-to-find and hard-to-get items was delivered from UHS to the Broome County warehouse in Endicott in early September," she said. "The materials, such as surgical masks, N95 respirators, gloves and sanitizers, were distributed from there to each school in time for opening."
In early August, UHS learned from school districts that their need for PPE was very critical, and that they had no idea where to search for it, said Blaine Olmsted, senior director of Supply Chain Operations at UHS.
He and Tina Dolan, director of Public Policy and Program Development at UHS, quickly went into action to coordinate a response, working in tandem with UHS staff and with county and school officials.
Said Blaine: "We pulled together to meet the greatest needs rapidly, which is awesome."
Tina commented: "At UHS, we know what it's like to have a lot on your plate. By using our subject-matter expertise in procuring PPE for the schools, they were able to focus their energy on what they do best: getting our kids learning again."
The PPE is mandated by the state and is very important to maintain safety as schools go back into session. County and school officials have expressed their gratitude to UHS for stepping up to help them meet a dire need.
"The county ordered 373,000 items of PPE through UHS," noted Patrick E. Dewing of the Broome County Emergency Operations Center-Logistics Section. "We accomplished our goal of supplying PPE to all of the schools who requested it prior to their opening day."
UHS has become an active and reliable source of PPE procurement in the region, noted Reggie Jackson, value analysis business coordinator in Procurement Services at UHS.
Schools all around the two counties, along with BOCES and SUNY Broome, benefitted from the supplies and equipment, he said.
In a message to Blaine, John M. Carrigg, president and chief executive officer of UHS, praised the successful effort to match up schools with what they need to protect their students and staff.
"It really was remarkable how quickly you and your team pulled this together," John said. "The positive impact that your vision of support and safety will have for our community's school students and staff is incredibly important."
United Health Services, Inc. (UHS) is a locally owned, not-for-profit hospital and healthcare system serving Greater Binghamton and surrounding counties. Founded in 1981, UHS provides a full range of medical, surgical, rehabilitative and long-term care services throughout New York's Southern Tier.
United Health Services, Inc. and the members of the UHS System neither are affiliated with, sponsored, endorsed nor approved by, nor otherwise associated with, Universal Health Services, Inc. (NYSE: UHS), UHS of Delaware, Inc. nor their affiliates, which can be found at www.uhsinc.com.
Follow the latest UHS news and more at nyuhs.org and on Facebook—https://www.facebook.com/nyuhsinc.