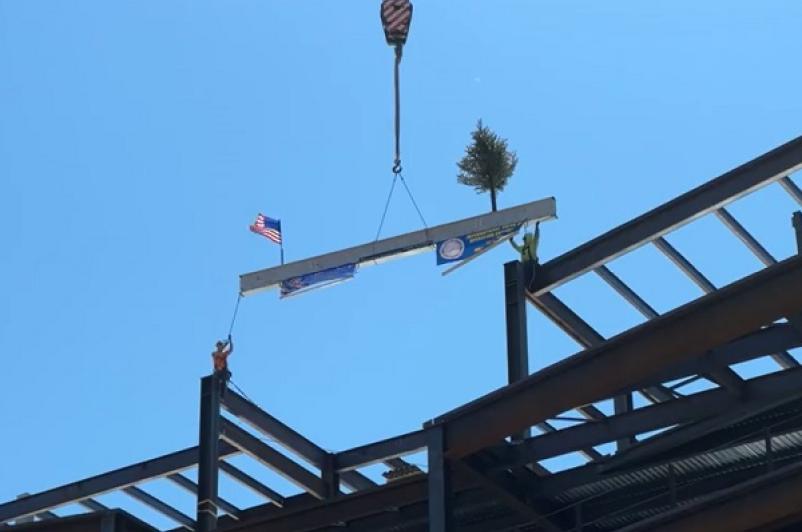 'Topping out' signals great progress of Wilson Main Tower
April 03, 2023
The final beam was placed on the steel structure of the new Wilson Main Tower on the campus of UHS Wilson Medical Center on Monday, April 3. A "topping out" ceremony was held to commemorate the construction milestone. During the days prior, the white-painted top beam has been held at ground level so Team UHS members could stop by to sign their names and express sentiments in writing.
Progress is becoming more dramatically visible every day at the site of the Wilson Main Tower, the centerpiece of the Wilson Project on the UHS Wilson campus. Much work has been completed on the tower, as well as on several internal functions necessary to operate the building when completed.
The six-story, 183,375-square-foot tower will be the most striking aspect of the Wilson Project, creating 120 private patient rooms in a beautiful building full of natural light.
On Monday UHS celebrated the steel structure completion by joining with our design and construction team partners, Chianis + Anderson Architects and LeChase Construction, for a traditional "topping out" ceremony.
The final steel beam was installed more than 100 feet above ground level. It's part of almost 2,000 tons of steel throughout the Wilson Main Tower. Leading up to the event, the beam had been painted white and placed on ground level at the front entrance to the Gateway Building parking lot. UHS staff, providers, patients, visitors and UHS Foundation donors, along with construction team members, were encouraged to stop by to sign their names and share their sentiments in writing.
Topping out ceremonies are a long-standing tradition in the construction field, signaling the attainment of a milestone and announcing, "Progress under way!" As with mountain climbers reaching a peak or astronauts landing on the moon, project and construction teams take a moment to celebrate the progress made, thank all involved in the project and look forward to completion.
The new Wilson Main Tower is expected to open in 2024. At 183,375 square feet, the state-of-the-art structure will be the "front door" to UHS' services. When completed, it will house four inpatient medical/surgical units, each with 30 private patient rooms. The tower also will also feature a new emergency department, MRI suite and rooftop helipad.
The goal of the Wilson Project is to create an exceptional patient experience and enhance patient satisfaction with our medical and surgical services. It will benefit future generations from across the Southern Tier region in many ways, supporting the quality of care available and expanding UHS' ability to recruit and retain outstanding healthcare providers.
We are excited about the progress of this construction project and look forward to the day we can open and begin caring for patients in this amazing new space.