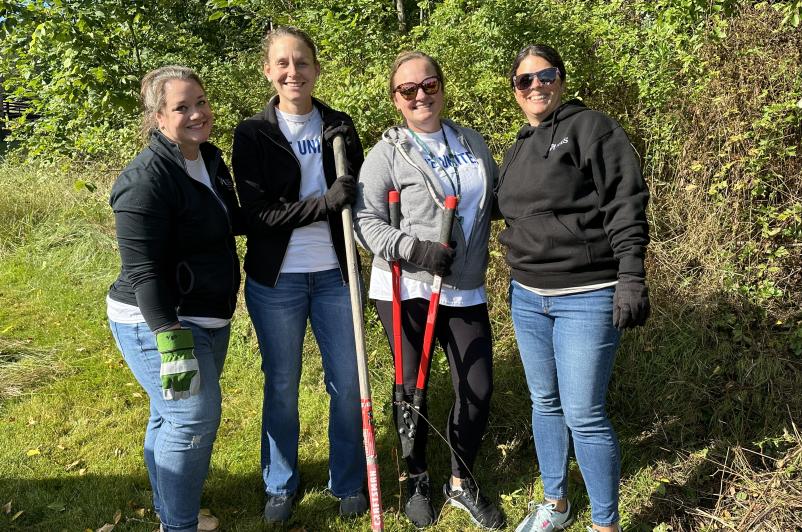 Team UHS takes on Broome County projects for Day of Caring
September 15, 2023
Groups of UHS employees volunteered for the 2023 Day of Caring on September 15 at charity venues across the Southern Tier, rolling up their sleeves to support the annual activity organized by United Way of Broome County.
UHS teams deployed to several locations, including UHS Senior Living at Ideal for the first time, early Friday morning and immediately began pitching in to spruce up the nonprofit sites under the direction of site supervisors. The UHS groups joined other volunteers from across the community.
Day of Caring volunteers step up for local health and human service agencies, parks, attractions and other nonprofit sites to clean, sweep, paint, dig, plant and repair. Groups like those from UHS furnish the support needed to handle the practical projects that many nonprofit organizations wouldn't otherwise have the resources to accomplish on their own, United Way executives said.
Whether indoors or out, the work takes a lot of elbow grease, but there also is time for refreshments, camaraderie and moments of fun.
UHS traditionally is a strong supporter of Day of Caring, which commemorates the heroism and self-sacrifice of Americans in the wake of the terrorist attacks of Sept. 11, 2001. Participation is evidence of UHS employees' devotion to reaching out to help others, whether in the workplace or the community, said John M. Carrigg, president and chief executive officer of UHS. John has volunteered on a Day of Caring team every year since United Way inaugurated the event in 2002.
The impact extends well beyond beautification. The volunteers' contributions of time allow many agencies involved to reallocate funds that would have been spent on capital projects back into programming and direct services for local residents.
See pictures below from UHS' participation in the Day of Caring: