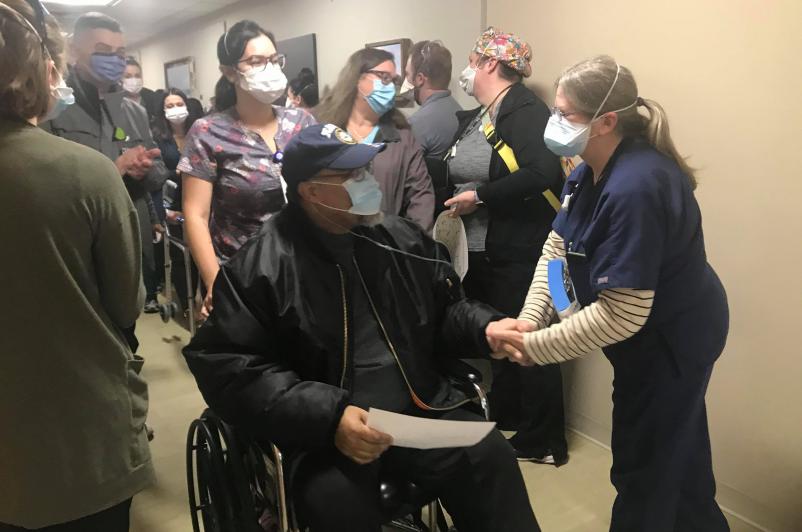 Team UHS celebrates courageous patient's victory over COVID
March 19, 2021
UHS employees and other well-wishers lined the halls of UHS Binghamton General Hospital March 19 to cheer and applaud COVID-19 survivor Jon McRae as he was discharged home.
Mr. McRae walked out of the hospital following an intense, four-month battle with the coronavirus that saw him receive lifesaving specialized treatment at both UHS Binghamton General and UHS Wilson Medical Center.
His release came just a few days after the one-year anniversary of the admission of the first COVID patient to a UHS facility.
Mr. McRae's own remarkable recovery and triumph over a powerful foe are a testament to the prayers, love and support of his family, to his own inner strength and to the exceptional medical care he received.
Mr. McRae was admitted to UHS Wilson back in December 2020 and experienced many health challenges during his ordeal of some 110 days. This included being intubated due to respiratory distress, undergoing a tracheostomy and having dialysis to treat kidney failure.
After some improvement, he was eventually transferred to the Sandiford Rehabilitation Center on Krembs 4, a unit at UHS Binghamton General on which he had worked in the 1990s as a physical therapy professional.
A coding/compliance educator for outpatient therapies and sports medicine, and a physical therapist assistant who has been with UHS for more than 22 years, he knew he could expect exceptional care from Team UHS.
"The staff members are terrific and so knowledgeable," he said. "They get you motivated and keep you motivated."
He credits the care provided by everyone at UHS with enabling him to beat the effects of the coronavirus, which for him were very severe, and to get back on his feet.
"So many people were involved in my care," he said. "Nurses, doctors, specialists, nurse practitioners, respiratory therapists, physical therapists, occupational therapists, speech therapists, aides, lab technicians, environmental services and clerical staff--so many people have been working so hard through this whole situation."
He had a special word of recognition for some team members who are, in fact, his colleagues in the physical therapy field."I received support from physical and occupational therapists starting during my stay in the UHS Binghamton General ICU," he said. "They got me ready for the transition to rehab, and those clinicians were integral in preparing me to return home. I won't forget a single one of them."
Mr. McRae said the love, support and encouragement he received from his family made an enormous difference in his ability to survive and recover.
Of his wife Sandy and his four adult children—three daughters and one son—he noted: "I don't think I can adequately describe the support they've given me. Without them I would not be here today. Family support is just so crucial in COVID recovery."
"Jon was so sick for so long, and I couldn't be with him," Mrs. McRae said. "The nurses talked me through what was going on, and encouraged me to call whenever I wanted, which was often. They had tablets available, and facilitated video chats for the kids and me a couple times a day so Jon could hear our voices, even though he wasn't responsive."
Mr. McRae seconded his wife's gratefulness.
"The entire UHS staff has been supportive, professional and caring," he said. "Anytime my wife called, everyone updated her and listened patiently through her tears and really took the time to give information, especially when she couldn't visit."
Mr. McRae had been a COVID patient at UHS for a very long period, and his condition at times was very dire, which makes his recovery all the more dramatic, UHS clinicians said.
His hospitalist, Sarah Richeda, FNP, said: "Jon's family support system and will to survive played a huge role in his recovery."
Continuing, she noted: "The combination of family support and the dedication and care provided by UHS clinical staff are what enable patients like Jon to recover and return to their lives. We get up every morning because patients like Jon need us."
UHS leaders praised the steadfast work of Mr. McRae's clinical team as he made the long journey to recovery.
"Everyone has worked through a time of difficult challenges and frustration as a result of the pandemic," said Kay Boland, RN, senior vice president, chief nursing officer and chief operating officer of UHS. "Jon's story is inspirational, a high point for the UHS family."
John M. Carrigg, president and chief executive officer of UHS, noted that UHS team members have focused on creating a healing experience for every patient through the difficulties of the past many months.
"We have had such a tumultuous year of ups and downs," he said. "But I for one firmly believe we never once lost sight of our ultimate mission: to care for our patients in the best way possible, even under the most difficult circumstances."
So what's next for the triumphant Mr. McRae?
On the eve of his March 19 discharge, he said he was avidly looking forward to returning to his home in Greene, spending time with his loving and supportive family, and getting both some rest and some further rehab.
But his ultimate goal: To get back to work at UHS, providing care and service to others and supporting the very people who supported him in his darkest hours.