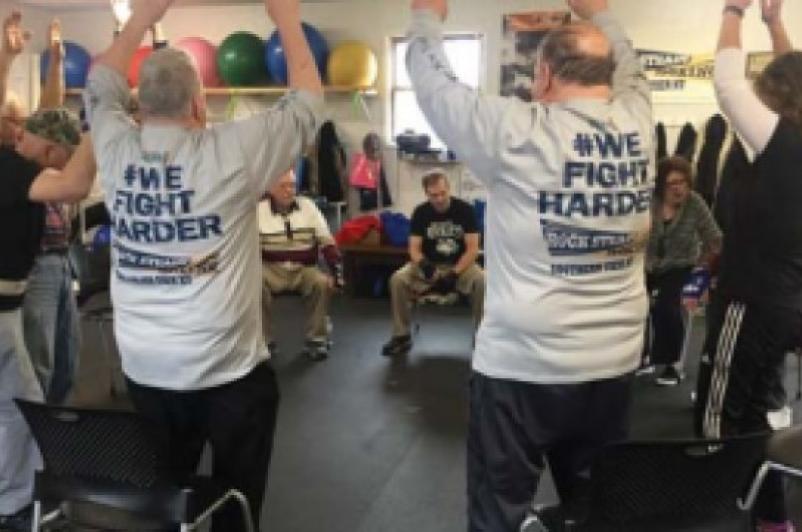 Rock Steady Boxing classes now available with UHS Sports Performance
February 17, 2021
UHS Sports Performance is excited to announce that it is partnering with Rock Steady Boxing Southern Tier as its 2nd affiliate site.
Rock Steady Boxing enables people with Parkinson's disease to fight their disease by providing non-contact boxing-style fitness programs that improve their quality of life and sense of efficacy and self worth.
Exercises are largely adapted from boxing drills. Boxers condition for optimal agility, speed, muscular endurance, accuracy, hand-eye coordination, footwork and overall strength to defend against and overcome opponents. At RSB, Parkinson's disease is the opponent. Exercises vary in purpose and form but share one common trait: they are rigorous and intended to extend the perceived capabilities of the participant.
Recent studies suggest that intense exercise programs may be "Neuro-protective", actually working to delay the progression of symptoms of Parkinson's. RSB provides encouragement through coaching to inspire maximum effort, speed, strength, balance, and flexibility
Classes take place Tuesdays and Thursdays from 11am to 12pm at the UHS Vestal Physical Therapy Performance Gym (4433 Vestal Pkwy E, Vestal).
For more information on Rock Steady Boxing, click here.
New participants are welcome. Contact John Cappello 607-760-4487 or Evelyn Deeley 607-768-2262 to get started today.