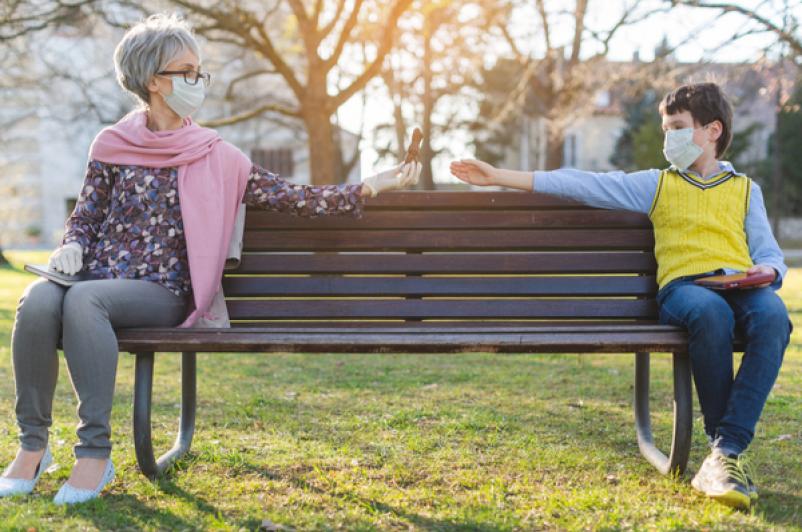 Outdoor visiting opens for Ideal Skilled Nursing Facility
August 12, 2020
UHS is happy to announce that we have submitted our NY Forward Safety Plan to begin in-person visitation in the Nursing Home at UHS Senior Living at Ideal! We have been working with the Health Department over the last few days to finalize the plan. We are making the courtyard as safe as possible for residents, and we have installed a tent, for some protection from the sun, heat, and light rain.
The directive is very comprehensive, and the Governor's guidance and Department of Health requirements are rigorous (for good reason - to protect your loved ones). We have been working diligently to meet the needs of the regulations, and to develop a visitor management program. We are ready to launch that. Please see the method for making an appointment below, as well as the rules for visitation -- these are NYS rules, not ours - but have been incorporated into our internal policies.
Visits are Outdoor By Appointment Only. We are planning them at 10:00 AM and 1:30 PM. They will last for up to 30 minutes, if the resident and visitor can both tolerate the weather on that day for that long.
The FIRST day of appointments will be THURSDAY, August 13th, 2020.(the visit starts at that time -- so it is suggested that you arrive 20-30 minutes ahead, to go through screening and get settled into your assigned visiting location to maximize your time with the person you love, instead of waiting in line.)
A couple key tips :
Visitation sessions will end at exactly 10:30 AM and 2:00 PM, respectively -- so you won't want to miss out on any of those minutes! We will bring the residents out only after family members are in the courtyard and seated, so they are not exposed to the sun and heat any longer than necessary.
As you'll see below - we will have anywhere from 7-14 individuals arriving for screening at about the same time. So coming a bit early is welcome, then you can sit in the comfort of your car with AC on until it is time for visiting.
Due to the uneven terrain, ALL residents (even those who are able to ambulate normally) will be escorted to the visit location by wheelchair, rather than walking there - - the risk of trips and falls is high, so we are committing to transporting them on wheels.
HOW TO MAKE AN APPOINTMENT:
Call to Social Workers (2nd Floor Lily and Violet Courts - Sarah 607-786-7468, 1st and 3rd Floors - Hanna 607-786-7498).
There are limited appointments available, due to space and capacity limitations imposed by the Department of Health, so please be patient, especially the first few days as we figure out the process and accommodations.
You will need to provide the Social Worker an e-mail address, a daytime phone number, and an evening phone number prior to securing the appointment.
BEFORE THE VISIT:
You will arrive to the lobby of the Nursing Home, with a valid Drivers' License - - this will be scanned, so that your contact information is obtained per the NYS Department of Health Regulations.
Screening staff will confirm your contact information, for tracing purposes in case of exposure.
There is a touch-less thermometer, and the staff in the lobby will help you use it.
Screening staff will ask a series of questions, similar to ones you encountered if you have had a recent doctor's appointment (symptoms, travel, exposure).
VISITATION RULES DURING THE VISIT:
Visitors must be 18 years of age (or supervised by someone 18 or older).
Visitors and Residents must both wear face coverings AT ALL TIMES (therefore, no eating or drinking will be permitted during the visit).
Since this is Outdoor visitation only, it is weather dependent - but we have umbrellas at the tables and the awning which will provide some shelter from the sun.
All areas have been moved and outlined to maintain a 6 foot separation between other visiting pairs. And the resident and visitor must remain 6 feet in separation from each other. (Yes, this is a contact-free visit).
Visitation area must be supervised by a staff member, to assure adherence to face coverings and social distancing rules - so we will have someone in the courtyard to support you, your loved one, and to call for assistance as needed.
Due to space restrictions, total number of visits can not exceed 7 residents (with a max of 2 visitors per session) - - in order to maintain social distancing at all times.
If any visitor fails to adhere to the protocol, he/she/they will be prohibited from visiting for the DURATION of the COVID-19 state declared public health emergency. This is BIG -- Please read that last one again!!! (This is State Guidance)
Those are the rules YOU must follow, if you choose to visit. There are several elements that WE must comply with as an organization, and we are well-prepared to maintain those requirements.
You will receive a brochure the first time you visit, and we will obtain a signature reflecting you were provided that information, to maintain in our records. To read a copy of the brochure now, click here.
IF we have any staff or residents in the Residence Center who become positive for COVID-19, visitation will be disallowed for at least 28 days from the report of the most recent positive to DOH.
Also, as long as Broome County remains in Phase 3 or greater of the NYS Reopening Plan, we remain eligible for this visitation program.
Due to the expectation that in-person visits are going to be largely preferred to the virtual ones, we are going to limit the volume of window visits and face time visits for the first couple of weeks, so every resident can get at lease one in-person visit who wants one. Once we determine the volumes and preferences better --- we will "right size" both window visits and face time visits to the needs of you, as family members. I know for some -- a contact-free visit is more painful than keeping the window between you. To have a loved one nearby and resist the urge to hug them is hard (really hard). So -- window visits will remain an option as we assess the preferences from you, the visitors, as well as your loved ones, our residents.