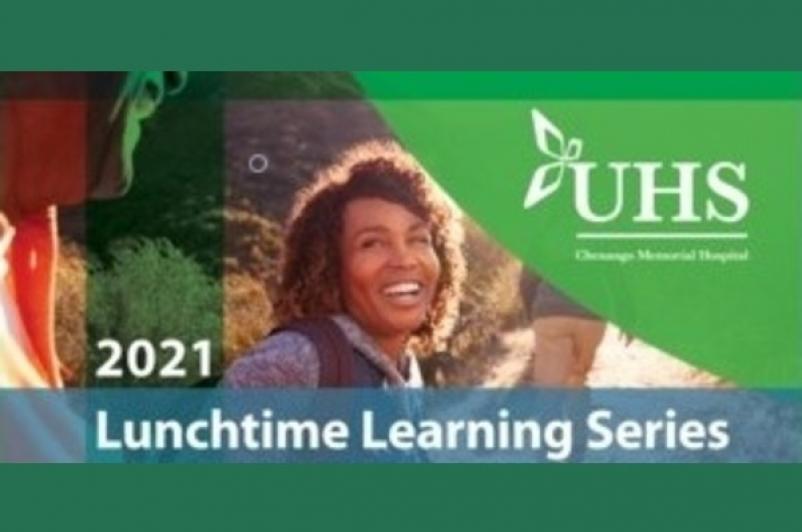 Learn more about Osteoporosis in Tuesday's virtual health talk
July 23, 2021
The effect osteoporosis has on the bones is illustrated in the word itself, which translates literally to "porous bone". The condition contributes to two million broken bones a year and impacts nearly 54 million Americans, according to the National Osteoporosis Foundation.
There is one factor which makes preventative treatment a challenge.
"Most people aren't aware they have it unless they've suffered a fracture," explained Nicole Osterhout, a Certified Nurse Practitioner with UHS Rheumatology.
One of her goals when she treats patients with osteoporosis is to prevent such a break from ever happening.
"Preventing fractures prevents surgery and all of the complications that can come along with it," she said.
She feels so strongly about the topic that she's chosen it as the focus of a virtual health talk she'll deliver as part of the UHS Chenango Memorial Hospital's 2021 Lunchtime Learning Series. The presentation will take place at 12:15 p.m. on Tuesday, July 27 via Zoom.
"Education on Osteoporosis treatment and prevention can really improve the health of our community, especially considering our aging population," she explained.
The medical provider's desire to help educate both patients and the community about this and other conditions is reflected throughout her practice.
"I value trying to help people to understand the conditions and treatment options so they can make informed decisions," Osterhout said. "I try to always present information in a way that is easily understood and give time for questions."
Her approach is informed by her own experience as a patient. In fact it is why, by age 10, she knew she wanted to pursue a career in healthcare
"I am an ovarian cancer survivor," she said. "My experience going through surgeries and multiple appointments showed me what a difference health care providers can make in people's lives."
In less than ten years, Osterhout worked her way from nursing assistant to RN to certified nurse practitioner. It was meeting Dr. Henda Bouali, who heads the UHS Rheumatology practice, which ultimately led Osterhout to specialize in Rheumatology.
"After meeting Dr. Bouali and seeing how eager she was to teach, I knew this would be a great place to learn and grow – and it has been," she said. "I'm constantly learning every day and feel challenged by our patient population, which makes coming to work every day really rewarding."
Osterhout said she knew she had made the right decision when she learned that rheumatology providers were in short supply, particularly in the Southern Tier.
"I felt good about helping to bridge that gap to give patients access to care," she said.
The impact Osterhout is already having after only three years with UHS Rheumatology is evidenced by the comments left by her patients, which are shared on her NYUHS.org provider page.
"The care and attention Nicole shows her patients is illustrated by the glowing sentiments many of them have shared," said Chris Kisacky, Vice President of Service Delivery and Coordination at UHS Chenango Memorial Hospital. "She's another shining example of the care team at UHS Rheumatology in Vestal."
Osterhout's presentation is the fifth and final installment in a five-part lunch-and-learn series focused on topics in rheumatology, hosted by UHS Chenango Memorial and the UHS Rheumatology team.
"This has been a wonderful way for us to get to know Dr. Bouali, Nicole and all of their colleagues at UHS Rheumatology," Kisacky said. "This has been a wonderful collaboration."
According to Kisacky, the Norwich hospital will soon be announcing a follow up series. This time, she and her team will be collaborating with providers from across the musculoskeletal specialties, including medical professionals from UHS Orthopedics Norwich and UHS Therapies Norwich.
"We're very pleased with the response we've seen for the Rheumatology series from patients and community members, as well as from staff and providers. This virtual platform gives us the opportunity to broaden our audience, while at the same time making recorded versions of the presentations available to view after the fact," she said.
To register for Tuesday's presentation or for more information on upcoming virtual programs, contact Melissa Stagnaro at (607) 337-4183 or via email at melissa.stagnaro@nyuhs.org.
UHS Chenango Memorial Hospital is a member of United Health Services, a locally owned not-for-profit 916-bed hospital and health care system serving the Greater Binghamton region from more than 40 locations around New York's Southern Tier.