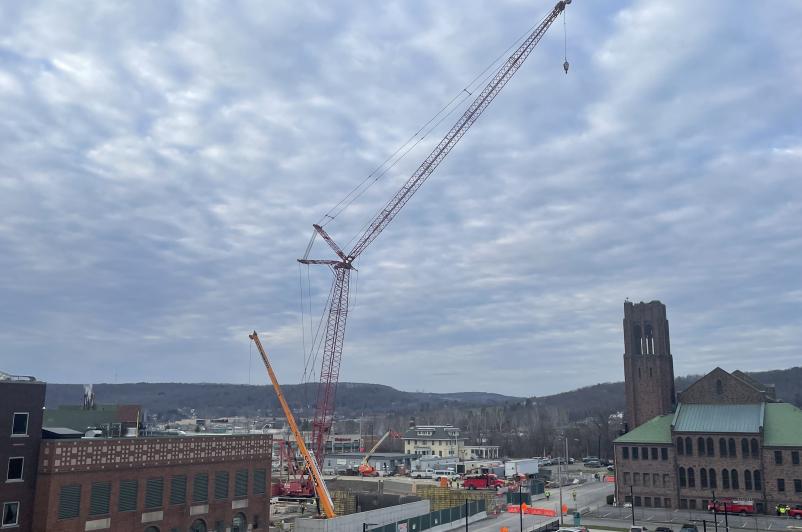 Huge crane to work at UHS Wilson site for 5 months
November 29, 2022
The Wilson Project construction site now includes a huge, 340-foot-tall crane that has begun the steel work at the project construction site.
The crane phase began Nov. 29 and the crane's assembly will impact traffic patterns on the UHS Wilson Medical Center campus and vicinity in Johnson City for four days.
It is important for the UHS team and the public to be aware of the following information in connection with the crane assembly and related actions:
The project crane will remain on site for approximately five months.
During that time, there will be 18 tractor-trailer loads of materials arriving on the campus to assemble the crane. For reference, once assembled, the huge project crane will be larger than the giant one currently being used at the Oakdale Mall.
There will be no impacts to Harrison Street traffic.
All non-emergent, visitor and patient traffic is being detoured one block east to Arch Street to access the Gateway parking lot and the main entrance to UHS Wilson.
Baldwin Street access is from the Corliss Avenue (south) end.
Arch Street will always remain fully open, and the Sarah Jane Johnson Church sidewalk will remain open as well.
Flagmen are stationed at Baldwin and Arch streets during all crane assembly materials and off-loading.
The preparatory "enabling" phase of the Wilson Project has been completed after 18 months of solid work and progress. The next stage is about to begin: It is projected that in 18 months the new tower will be completed and occupied.
The project has reached a monumental mid-point milestone; the interior, enabling work is ending at this same time that the team will shift focus to the construction of the new Main Tower.