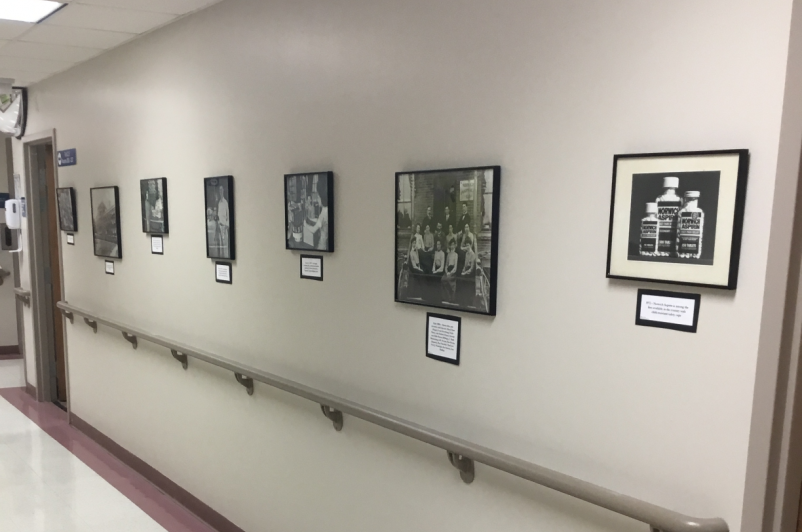 Historical Society collaboration allows Senior Living residents to reminisce at UHS Chenango Memorial
March 23, 2021
The central corridor of UHS Chenango Memorial Hospital's second floor has been transformed into a gallery of historical images which tell the story of Chenango County's rich heritage. The exhibit, curated by the Chenango County Historical Society, is a collaboration between the hospital's long term care unit and the museum. It is designed to help residents feel a sense of community and connection at a time when they've been isolated due to COVID-19.
"The pandemic and resulting regulations guiding long term care facilities in an effort to keep them safe have also resulted in a loss of routine, family and community," said Suzanne Martin of UHS Senior Living at Chenango Memorial Hospital.
As a social worker, Martin works closely with residents of the long-term care unit, which is the only five star facility in the region.
"Many of our residents have learned to embrace technology such as Facebook and Zoom, but as a whole this is a population that loves to reminisce. This visual display affords them that opportunity and provides opportunities for stimulation and a feeling of community involvement," she said.
According to Chenango County Historical Society Operations Manager Joe Fryc, he and his colleagues at the museum were delighted by the prospect of collaborating with the hospital when Martin approached them about the project.
"Our mission as an organization is to celebrate the unique traditions and cultural heritage of our community. It is important for us to honor and respect those who have helped build our community and make Chenango County such a special place to live," he said.
"We are incredibly proud to know that our work and our collection will be having a positive impact on the residents of the long-term care facility."
The first installation in the new gallery consists of 14 historical images related to the Norwich Pharmacal Company. A caption accompanies each image, detailing its origin.
"Every few months, the exhibition will rotate with new pieces," Fryc said. "We are next planning to feature images from our collection of glass slides that were originally taken as photographs by the Morton family of Oxford."
According to Martin, the new gallery wall has been well received by its intended audience.
"Our residents are enjoying seeing the display and are already looking forward to future exhibits," she said. Prospective residents and their families will also get a glimpse of the wall in a new virtual tour video being created to show off the five star facility while in-person visitation is still limited due to COVID.
The Chenango County Historical Society is looking forward to further collaborations with the hospital, as well as others in the Chenango community.
"As an organization, we are always open to possibilities for new collaborations. We celebrate the culture of Chenango County – its unique traditions, noteworthy residents, and unusual stories – and we plan to keep sharing these stories with all who wish to hear them," he said.