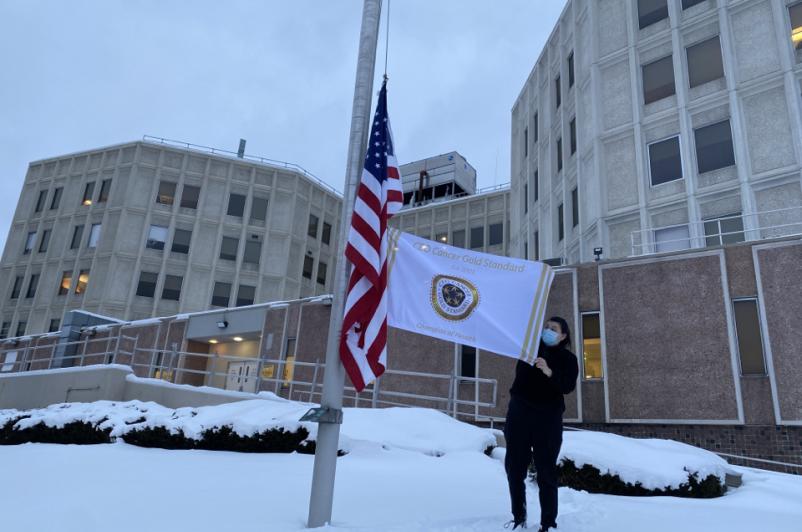 Flag flies at UHS Wilson to honor World Cancer Day
February 04, 2021
As an offer of deep and genuine thanks for UHS' leadership to stop the terrible toll of cancer by implementing the CEO Cancer Gold Standard™, the national CEO Rountable on Cancer program sent UHS a flag to demonstrate that we are a Health Champion in the fight against cancer. It is with great pride (pictured above) that we fly this flag gifted to us on World Cancer Day.
World Cancer Day, observed annually on February 4, is a time to raise awareness about cancer and to encourage its prevention, detection and treatment.
The CEO Roundtable on Cancer is a nonprofit organization of leading CEOs, founded in 2001. Members of the CEO Roundtable on Cancer work collaboratively to develop and implement initiatives that reduce the risk of cancer, enable early diagnosis, facilitate access to the best available treatments, and hasten the discovery of novel and more effective anti-cancer therapies in an effort to eliminate cancer as a personal disease and public health problem.
This includes the CEO CANCER GOLD STANDARD™, which is a no-cost workplace wellness accreditation program established in 2006, by the CEO Roundtable on Cancer. The Gold Standard provides a framework for employers to have a healthier workplace by focusing on cancer risk reduction, early detection, access to clinical trials and high-quality care. All of the requirements of the CEO Cancer Gold Standard are based on scientific evidence, and the program is carefully reviewed annually to ensure that it remains comprehensive and up to date.
Over 200 private, non-profit and government employers in diverse industries have earned Gold Standard accreditation, including the National Cancer Institute (NCI), the federal government's principal agency for cancer research and training, and a number of NCI- designated cancer centers. To earn Gold Standard accreditation, an employer must establish programs to reduce cancer risk by taking concrete actions in five key areas known as the Five Pillars:
Pillar 1: Prevention
Pillar 2: Screening
Pillar 3: Cancer Clinical Trials
Pillar 4: Quality Treatment and Survivorship
Pillar 5: Heath Education and Health Promotion
We look forward to continuing to work with the CEO Roundtable on Cancer and to champion health and fight cancer.