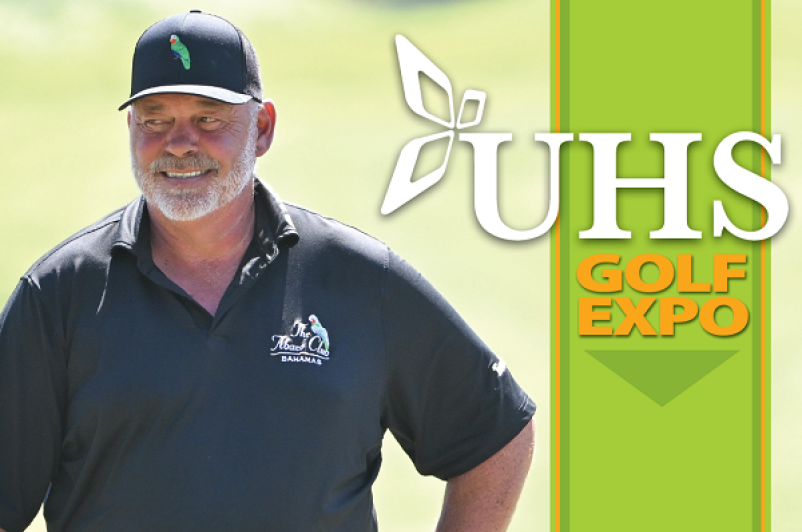 Champion golfer Darren Clarke to guest-host UHS Golf Expo
May 17, 2023
A Northern Irishman whose career in professional golf spans a wide range of victories will be the featured honorary host of the UHS Golf Expo during the Dick's Sporting Goods Open this year at En-Joie.
Darren Clarke is a pro from Northern Ireland who currently plays on the PGA Tour Champions and previously played on the European Tour and PGA Tour, winning an impressive 21 tournaments worldwide.
The Expo will be held on Wednesday, June 21, at En-Joie Golf Club, starting at 4 p.m., under the Hinman, Howard & Kattell tent, just off the 18th green.
The Orthopedics, Sports Medicine and Dermatology departments of UHS will present their annual exhibition, featuring a wealth of healthcare information, resources, prize drawings and giveaways.
Then, following the pro-am, at about 6 p.m., Mr. Clarke will be on hand for a live interview with SiriusXM host Dave Marr, and will provide a chipping demonstration designed to help everyone improve their golf game.
Mr. Clarke's biggest victory came when he emerged victorious at the 2011 Open Championship at Royal St. George's in England, his first major win after more than 20 years and 54 attempts.
He has also won two World Golf Championship events, most notably the 2000 match play, when he defeated Tiger Woods in the final.
He has played in the Dick's Sporting Goods Open as well. Last year he joined the foursome put together by John Carrigg, president and chief executive officer of UHS.
"We of Team UHS are honored to have Darren Clarke, a true golf champion, as the honorary host of our Expo this year," Mr. Carrigg said. "He will bring to his presentation both insights into the game of golf and inspiration for the will to win."
Said tournament Director John Karedes: "We are excited to continue our partnership with UHS and welcome Darren Clarke to this special event. There isn't a nicer or more down-to-earth guy than Darren. He is going to host a fantastic afternoon for our community."
The UHS Golf Expo with Darren Clarke is free, but registration is required.
To register, please call 607-205-1500 or click here.
The DICK'S Sporting Goods Open will be held June 19 to 25 at En-Joie Golf Course.
Skin Cancer Screening
UHS Dermatology will be on-site at the UHS Golf Expo to provide skin cancer screenings for event-goers. Screenings will be confined to a specific area of the body. Full-body skin checks will not be performed at this event.
Registration for a skin cancer screening in advance is required. Walk-ins will not be accepted.
To register for a 15-minute time slot, click here.
Family Fun Night
And don't forget that UHS will be hosting Family Fun Night on Saturday, June 24 at En-Joie Golf Club. Learn more about the fun evening for the family that includes a movie and fireworks by clicking here.