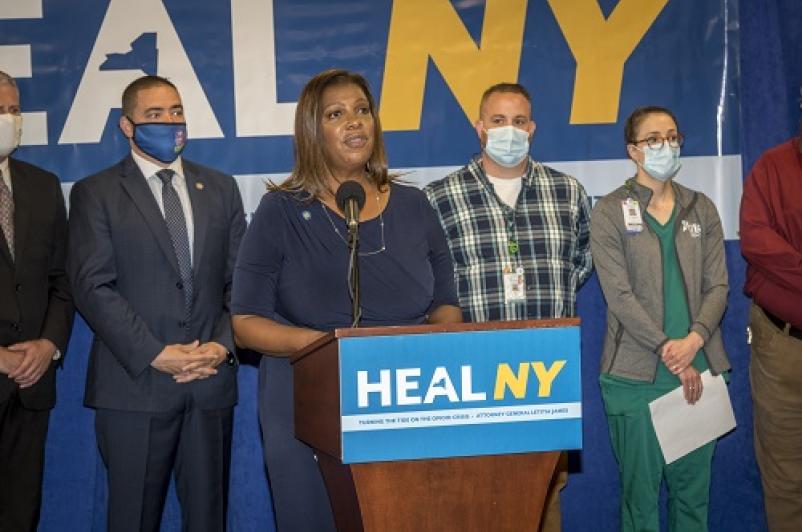 $26.7 million coming to Southern Tier, AG says at UHS
October 13, 2021
The Southern Tier has been approved to receive $26.7 million from the state to combat opioid use, New York State Attorney General Letitia James announced in an Oct. 13 news conference at UHS.
Of that amount, $4.1 million will be coming to Broome County.
The money will be "in a lock-box," earmarked specifically for drug prevention, education, treatment and outreach, and will not be able to be used for other government spending, Ms. James said.
"These funds in no way can bring back the loved ones who have been lost to opioid addiction," she noted. "But they can help prevent the next family from loss."
John M. Carrigg, president and chief executive officer of UHS, said the announcement about the significant amount of funding coming to the region is "tremendously good news."
"This investment will bring hope to thousands of people who will know that those they care about have not been forgotten," he said.
In her remarks, Ms. James praised UHS employees and medical staff for their commitment to caring for patients dealing with substance use issues.
"I would like to thank everyone who works at this hospital," she said. "You are doing the work of angels."
"Our task is to work as communities, and as a state, to formulate a comprehensive approach to addressing all the social determinants of health to prevent the initiation and perpetuation of substance use," said Julia Hunter, MD, medical director of Addiction Medicine at UHS Hospitals, who was also a speaker at the news conference. "This funding affords us the opportunity to move forward in combatting the opioid epidemic, prevent future harms and begin to heal."
Another speaker at the event was DJ Costick, a peer support specialist who works in the Emergency Department at UHS Binghamton General Hospital.
He said people with substance use issues can and do recover, if given the right resources and opportunities.
He noted that, in working with patients, "One of the most significant tasks we do is to give hope when we share our story from our past and how we made it to where we are today. We are privileged to witness recovery every day."
The attorney general visited UHS Binghamton General Hospital Wednesday morning to convey the information about the settlement payout in an event covered by local news media.
UHS was one stop on Ms. James's current "HealNY Tour," which has included visits to a number of counties around the Empire State.
The state money coming to UHS' service area is part of $1.5 billion in settlement funds to regions of the state where addiction is affecting many lives.
The funds come from several settlements the attorney general's office has negotiated following her March 2019 lawsuit against certain manufacturers and distributors deemed responsible for the opioid crisis.
UHS is a healthcare leader in the effort to curb addiction and save the lives of those who deal with substance issues, including the use of opioid-based drugs.
The UHS Addiction Medicine Department offers expert, evidence-based treatment, featuring a highly credentialed staff that includes a board-certified addiction medicine physician, registered nurses, credentialed alcohol and substance abuse counselors, and licensed social workers.
UHS offers the most robust continuum of care in the Southern Tier and is proud to be the region's largest provider of medication for addiction treatment.
To help reduce the number of overdoses in the community, UHS provides opioid overdose prevention training and a link to naloxone, a preventative medication, over the phone.
Moreover, UHS leads in offering resources to the community for dealing with addiction issues that have been exacerbated by the COVID-19 pandemic.
Learn more about UHS Addiction Medicine.
At the news conference, New York State Sen. Fred Akshar praised Ms. James and her team for their successful effort in securing the settlements from certain corporations in the pharmaceutical industry.
"It's not about money," he said. "It's about justice."