Welcome to UHS Chiropractic
When you suffer from back pain, headaches or joint pain, every day can be a difficult struggle. In many cases, chiropractic care can help alleviate the pain and treat the injury or disease behind it. At UHS Chiropractic, we use drug-free natural healing methods for patients of all ages.
Our patients include adults who suffer from chronic pain or from work-related or motor vehicle accidents, as well as children who may require a gentle adjustment following an injury. We always maintain communication with our patients' other healthcare providers, so that they remain aware of our treatment plan, progress and any other recommendations.
UHS Chiropractic is located at the UHS Orthopedic Center at 4433 Vestal Parkway East in Vestal, NY. For information or an appointment, call (607) 754-4850.
Low Back Pain
Neck Pain
Shoulder Pain
Headaches
Arm or Hand Pain
Fibromyalgia
Thoracic Outlet Syndrome
Disc Problems
Whiplash
Sciatica
Muscle Spasm
Hip Pain
Work Injuries
Mid-Back Pain
Spinal Manipulation or "Adjustments"
Manipulation Under Joint Anesthesia
Cox ™ Flexion-Distraction Therapy
Manual Traction
NIMMO ™ Trigger Point Therapy
Therapeutic Exercise
Ultrasound Therapy
Electric Muscle Stimulation
Jones Strain-Counterstrain Soft Tissue Technique
Ergonomic Advice
Proprioceptive Taping
Stretching and Strengthening
Nutritional Advice
Manipulation Under Anesthesia (MUA)
Braces and Supports
Spinal Rehabilitation
DTS ™ Spinal Decompression Therapy
Interferential Current Therapy
Stabilizer ™ Core Strengthening
McKenzie Directional Preference Therapy
Meet the UHS Chiropractic Team
Douglas Taber, DC
Douglas J. Taber, DC, is a 1998 graduate of New York Chiropractic College in Seneca Falls, N.Y., and holds a bachelor of science degree through the State University of New York at Fredonia. He is in full-time practice with UHS, the locally-owned, not-for-profit healthcare system serving New York's Southern Tier. Dr. Taber has held fellowship status with the American Academy of Integrative Medicine, American Academy of Chiropractic Physicians, American College of Spine Physicians, American Board of Disability Analysts and American Back Society.
Dr. Taber's multiple awards and distinctions include International Health Professional of the Year 2006 from the International Biographical Center in Cambridge, England. In 2008, Syracuse University's Whitman School of Management awarded Dr. Taber with their "40 Under 40" Award, and in 2009 he was voted One of America's Top Chiropractors by the Consumers' Research Council of America.
He was bestowed with the prestigious Hippocrates Award in 2011 by the American Biographical Institute, the same year his book, The Neck Pain Solution: A Guided Healing Approach, won him first place at the International Book Awards. In February 2016, he was voted One of the Top 10 Chiropractors in New York State, by the American Institute of Chiropractors. In 2015, he was the recipient of the Quill Award from the American Academy of Best-Selling Authors.
Dr. Taber has been board-certified in pain management, motor vehicle accident trauma and disability trauma through the American Academy of Experts in Traumatic Stress, and has achieved diplomate status with the American Academy of Pain Management, the American Academy of Integrative Medicine's College of Physicians and the American Academy of Spine Physicians.
He is a certified ergonomics technician, chiropractic sports injury specialist and chiropractic sports medicine specialist. Through the American Academy of Integrative Medicine, Dr. Taber has held diplomate status with the College of Acupuncture & Neuromuscular Therapy, the College of Pain Management and the College of Eastern Medicine.
Dr. Taber is an Editorial Review Board member of the prominent multi-disciplinary Spine Journal, of the North American Spine Society; an Editorial Review Board member of the Journal of Anesthesiology and Pain Medicine and a reviewer for The Gavin Journal of Anesthesiology. He was the lead researcher in a study of Manipulation Under Anesthesia for Lumbopelvic Pain that was published in the peer-reviewed Journal of Chiropractic Medicine in 2014. He has designed and authored online continuing education courses on Adhesive Capsulitis and Epidural Injections for Pain Management. Douglas is the founder and mediator of the Primary Spine Specialists group on Linked-In, and the inventor of the Stand4HealthApp on iTunes.
Dr. Taber is an instructor for the New York Chiropractic College post-graduate department, and regularly teaches and lectures to medical professionals and general audiences on spine care and various health and wellness topics.
He is the award-winning author of several books, including: The Back Pain Solution: Unlocking the Spinal Code, The Spinal Answer Exercise Program, Spinal Decompression & Stabilization Protocol, Overcoming Failed Back Surgery, Spinal Stabilization: A Functional Rehab Program, The Neck Pain Solution: A Guided Healing Approach, and Here: Mind-Body Harmony Through Present Moment Awareness. In 2015, Dr. Taber co-authored the amazon.com best-seller Success Today with Brian Tracy. His audio releases include Guided Meditations, Presence, Mindful Eating, and Morning & Evening Affirmations, which are available as MP3 downloads on ITunes and amazon.com.
Call today to make an appointment with Dr. Douglas Taber at UHS Chiropractic, located at the UHS Orthopedic Center at 4433 Vestal Parkway East, Vestal. For information or an appointment, call 607-754-4850.
Zachary Secoolish, DC
Zachary Secoolish, DC graduated from SUNY Delhi in 2015 with a Bachelors in Business Administration, with a focus on Professional Golf Management. Prior to becoming a Doctor of Chiropractic and attaining his Masters in Applied Clinical Nutrition in 2021, Dr. Secoolish worked in the golf industry for six years as an assistant golf professional at Brynwoord Country Club. There, he spearheaded a Golf Performance Program aimed to correcting physical deficits and improve golf swing through on-range instruction and personalized exercise programs. In additional to his TPI Certification, he is certified through the National Academy of Sports Medicine as a Certified Personal Trainer.
What to expect on your first visit
Many new patients are not sure what to expect during their first appointment with a Doctor of Chiropractic (DC). Chiropractors start by taking a patient's history and then performing a physical examination to develop a working diagnosis.
Learn more about what to expect >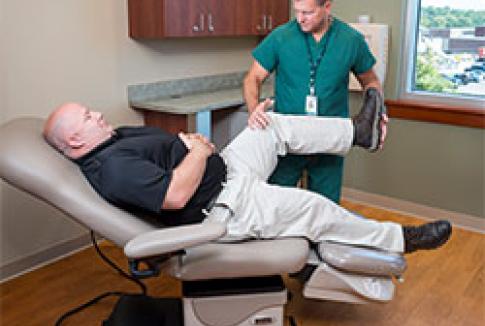 Frequently Asked Questions
What conditions do chiropractors treat? How do I select a doctor of chiropractic? Is chiropractic treatment safe? Get answers to these questions and more here.
Read our FAQs >