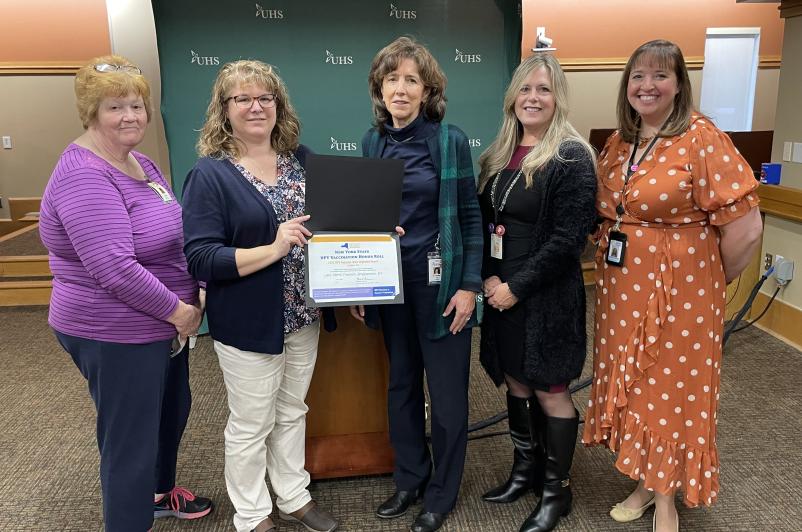 UHS school-based center recognized for HPV vaccination program
November 15, 2022
The UHS School-Based Health Center at Benjamin Franklin Elementary School has been recognized by the New York State Human Papilloma Virus (HPV) Coalition for the clinic's efforts to increase HPV vaccination rates in the Southern Tier.
The Broome County Health Department and the Community Cancer Prevention in Action Program (CPiA), in conjunction with the Healthcare Association of New York State, announced UHS' receiving of the HPV Honor Roll Award.
The UHS center at Benjamin Franklin in Binghamton is one of two practices in the region with the largest percentage-point increases. This recognition is especially noteworthy because the increase must be at or above the statewide practice average from the beginning of the year to be considered.
UHS clinicians at the school-based clinic said in a statement: "We are committed to working with the HPV Coalition to help educate the public about the importance of vaccination and providing expertise to get all kids vaccinated against HPV between 9 and 12 years of age."
UHS maintains school-based centers at Benjamin Franklin and Theodore Roosevelt elementary schools in the Binghamton City School District.
This year an estimated 34,000 people across the country and 2,700 people in the Empire State will be diagnosed with an HPV-related cancer.
Congratulations to the UHS School-Based Health Center at Benjamin Franklin Elementary School on being recognized and thank you for your hard work against HPV!