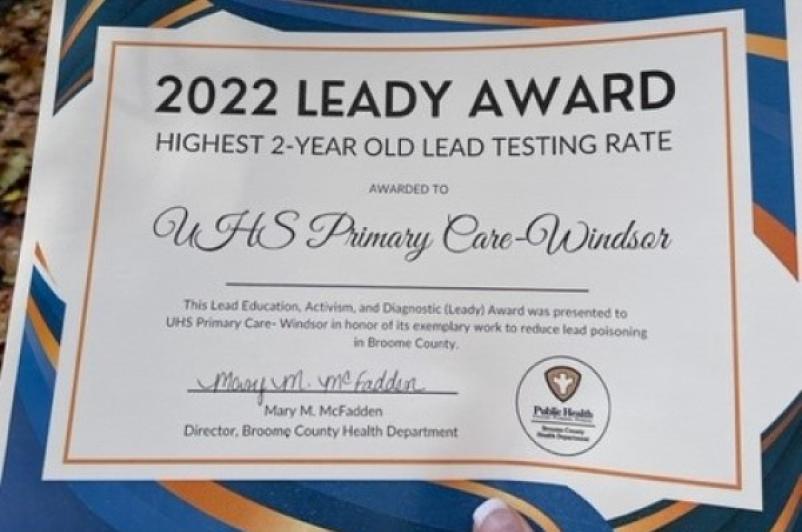 UHS Primary Care Windsor honored for lead-testing excellence
October 26, 2022
Congratulations to the UHS Primary Care Windsor team for being recognized by the Broome County Health Department for its testing rate of blood lead levels for young children.  The team was publicly recognized for its achievement at the first Broome County Health Department Lead Education Advocacy and Diagnostic Awards (the Leadys) on Tuesday, Oct. 25, at Otsiningo Park. The award ceremony included a declaration from Broome County Executive Jason Garnar recognizing International Lead Poisoning Prevention Week in Broome County. 
According to New York State records, UHS Primary Care Windsor has the highest blood lead testing rate for 2-year-old patients in Broome County, plus the highest overall testing rate for 1- and 2-year-old children, combined.  The practice had 59 percent of 2-year-old patients and 61 percent of patients who were 1 and 2 years old receiving the necessary blood lead tests between January and September 2022. 
"I am extremely proud of my staff and our providers for receiving this recognition from the Health Department," said Victoria Paden, UHS Primary Care Windsor Physician Practice supervisor. "Their dedication to their patients and making sure they receive the appropriate testing for lead is inspiring and I am proud to work with this team." 
"We as mothers and healthcare providers feel childhood lead poisoning prevention is important to our community," said Julie Ann Barnes, FNP, of the Windsor office.  "There are often no apparent symptoms when a child is exposed to lead. There is no safe blood level when lead is a concern. A child's learning capacity, ability to pay attention and academic achievement could all be affected by lead exposure."  
The staff at UHS Primary Care Windsor conduct the lead testing when patients in the 1-2 age group come in for their annual wellness check-up.  A quick finger poke is done to get blood and the testing is done right in the office using an in-house lead testing machine. Results take only a few minutes and are shared with the patient's caregiver during the same appointment. If lead levels are elevated, they are sent to a lab for a full blood test, which collects more blood for a better sample. If that sample shows high lead levels, the Broome County Health Department gets involved to educate on the dangers of lead and then patients are rechecked after some time. 
Many homes in this part of the country have lead paint, which puts children living in those homes at risk.  UHS clinicians have the ability to take a small drop of blood and run the testing the same day as our patients have their appointments. Reducing the long-term effects of lead exposure is our primary goal by testing each child in our practice at ages 1 and 2. 
Join us in congratulating these members of Team UHS for their dedication to this important effort!