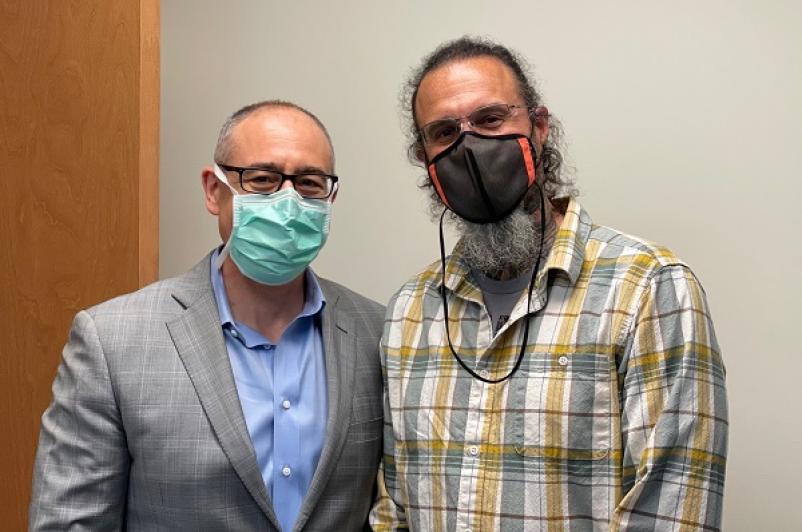 UHS patient's victory over pain featured by medical device firm
August 03, 2022
The role of UHS Spine Care & Pain Relief in caring for a patient with severe back pain has been featured on the social media platforms of Nevro, manufacturer of HFX, a leading spinal cord stimulation implantable device.

The patient was experiencing chronic sharp pain in his back and numbness in his legs until he sought care from orthopedic surgeon Matthew Bennett, MD, and the team at UHS Spine Care.

There he received the HFX implant and now says he has 90 percent less pain.

Based in Redwood City, Calif., Nevro makes the HFX device used by Dr. Bennett and his team to help more than 100 patients a year find lasting relief from chronic pain.
Spinal cord stimulation is a well-established approach to managing chronic pain and has been used globally for more than 30 years.

It features the implantation of a small device that transmits mild electrical pulses to the spinal cord, calming the nerves and reducing pain signals to the brain.

HFX is an innovative, evidence-based, comprehensive solution for individualized relief of chronic pain, clinically proven to deliver better and longer lasting relief than other stimulation systems.

Its use is covered by nearly all major insurance plans, including Medicare.

You can learn more about the implant available at UHS Spine Care & Pain Relief and read the full story of the patient's positive experience on Nevro HFX's social media pages, by clicking on the links below.