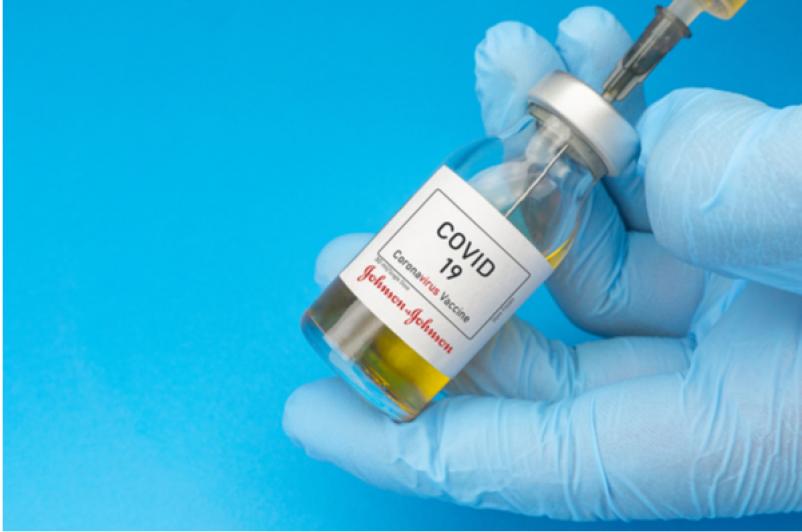 UHS' inpatients are offered J&J vaccine
March 11, 2021
Supplies of the Johnson & Johnson COVID-fighting vaccine arrived at UHS this month, with hospital inpatients becoming the first to get the free shots.
"We began vaccinating our first inpatients on March 5," reported James Jester, PharmD, director of Pharmacy for Clinical and Ambulatory Services at UHS Hospitals. "A total of 49 doses have been administered to date."
The vaccine was allocated to UHS by the state and goes first to inpatients over age 60 and to younger inpatients who have one or more qualifying medical conditions, he noted.
Women who are pregnant are among those being offered the vaccine if they wish to have it.
At UHS Wilson Medical Center and UHS Binghamton General Hospital, the vaccine is being administered on the nursing units, including as early as two to three days before the patient is discharged.
UHS providers, nurses and the Care Management team are working with the Pharmacy to ensure that the shots are given out in a coordinated manner.
Staff at UHS Chenango Memorial began administering the J&J vaccine to inpatients on March 4, said David Finney, RN, vice president for Clinical Services at the Norwich hospital.
"This is another historic day in the fight against COVID-19 for both our hospital and our community," he noted.
UHS Delaware Valley Hospital leaders expect to get a supply of the vaccine for inpatients next week.
UHS physicians and Pharmacy leaders have consistently urged people to take the first vaccine that is available to them, rather than waiting for a particular brand.
As with the flu vaccine, each of the vaccines available in the fight against COVID-19 has been proven effective in preventing moderate to severe symptoms and hospitalizations related to the disease, UHS medical experts said.
The other two approved vaccines are from Pfizer-BioNTech and Moderna.
The U.S. Food and Drug Administration on Feb. 27 issued "emergency use authorization" to Johnson & Johnson for its single-dose vaccine.
This decision was based on scientific evidence demonstrating that the vaccine is effective in preventing severe disease across all regions studied, J&J leaders said in a website statement.
Dr. Jester called the J&J vaccine another valuable tool in UHS' effort to get as many patients and people in the community vaccinated as possible.
"It's a one-dose vaccine, so there's no need to coordinate and schedule that second dose," he said. "It's ideal."