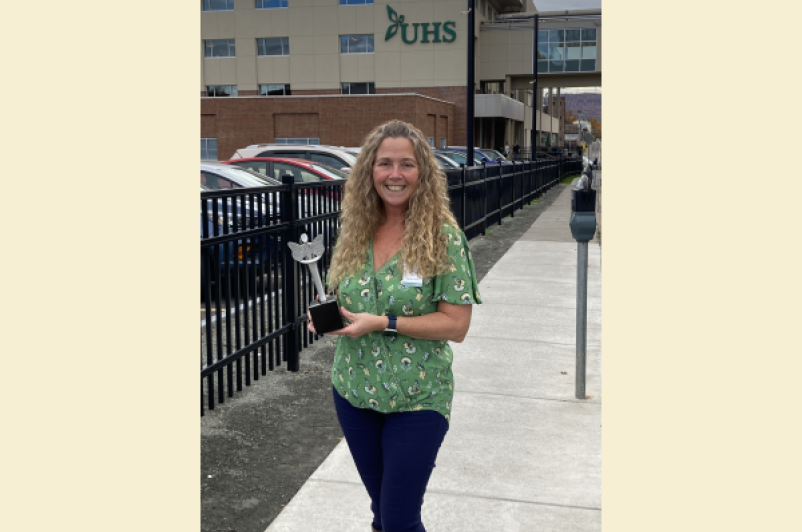 UHS honors PHIL Award winner Becky Yacano
November 01, 2022
The PHIL (The Pulmonary Health and Illness of the Lungs) Award, is a nationally recognized program dedicated to honoring outstanding respiratory therapists who provide exemplary care and treatment for patients with respiratory illnesses. The PHIL Award is The FACES Foundation's® signature program and is the only nationally recognized hospital-based recognition program dedicated to honoring outstanding respiratory therapists. It was created in 2006 in honor of Philip C. Lamka, who passed away from Interstitial Lung Disease (ILD) and is given out just once a year.
This program to recognize the unsung heroes in the respiratory profession who understand that each breath matters, continues at UHS with Becky Yacano, being named the 2022 winner!
Becky, a respiratory therapist at UHS Chenango Memorial Hospital received the award based on nominations from patients and peers. On Wednesday, October 26, during Respiratory Care Week, Becky was recognized and presented with the PHIL Award, a statue representing the peaceful flow of breath and a plaque, for the achievement and celebrated with UHS Senior leaders. As this year's winner, Becky receives a free trip to take part in the 2023 American Association of Respiratory Care Annual Conference in Nashville, TN.
Nominations were submitted by using a form found on NYUHS.org. On this form, anyone - patients, family members, nurses, physicians, other clinicians and staff - anyone who experiences or observes extraordinary care being provided by a respiratory therapist explains why they nominated the therapist and ranks their professional work. Nominees had to demonstrate the following:
Embodiment of professional excellence in the care of pulmonary illnesses that leads to improved healthcare outcomes
Delivery of clinical services with safety and integrity abiding by ethical work practices
Personal responsibility to meet the needs of patients, families and colleagues with compassion and respect
A commitment to build trust and promote well-being with all they encounter in their work
Congratulations, Becky! We are proud of the work you, and all of our respiratory therapists, do.