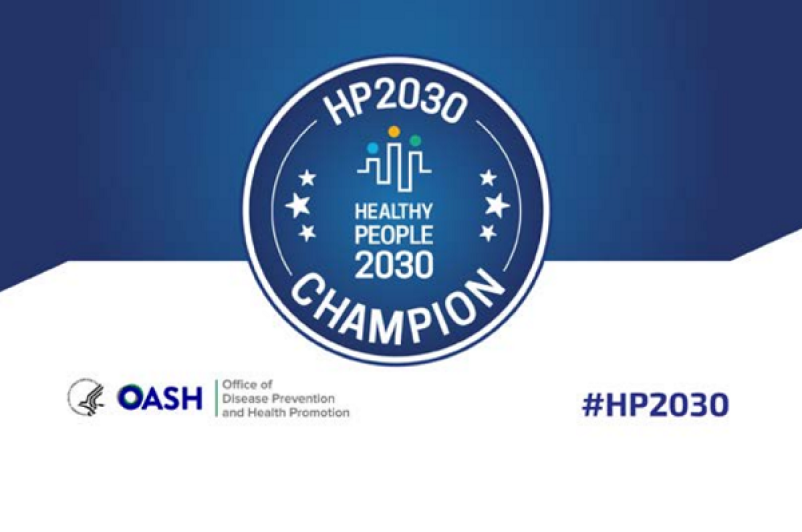 UHS honored for championing prevention and wellness
May 02, 2022
UHS has been recognized nationally for its efforts to prevent illness and advance health and wellness across the Southern Tier.
The Office of Disease Prevention and Health Promotion of the United States has announced that UHS has been accepted as a "Healthy People 2030 Champion."
The initiative identifies public health priorities to help individuals, organizations and communities across the U.S. improve their health status. The mission is to promote, strengthen and evaluate the nation's efforts to improve the well-being of all people.
The Healthy People 2030 framework addresses improving health outcomes, eliminating health disparities, achieving health equity and improving health literacy, plus creating an environment that promotes and optimizes an individual's full potential for improving health and well-being.
"These objectives are closely aligned with current and planned UHS strategic focus areas in patient care," said John M. Carrigg, president and chief executive officer of UHS. "UHS is proud to receive this recognition as we support the vision of the Healthy People 2030 guidelines."
In a statement describing the nationwide initiative, Office of Disease Prevention officials said: "Champions are organizations committed to working toward Healthy People's overarching goals and objectives," noting that each Champion hospital is honored on health.gov and receives a website badge highlighting their support.
UHS has worked hard to achieve Champion status, demonstrating a commitment to patient-centered care that starts long before a person comes to a UHS hospital or doctor's office for care.
Kayla Velie, manager of Workplace Wellness at UHS and a leader of UHS' prevention strategies, noted: "UHS has a dedicated Population Health Department that collaborates with members across the organization and the community to address social determinants of health, close gaps in care and address health disparities and health equity."
She added: "Our team is composed of both licensed clinical professionals and other team members to balance both the clinical and non-clinical needs of the population we serve."
Anne DePugh, system director of Population Health Management at UHS, said the hospital organization has many practical steps in place to encourage healthy lifestyles.
"UHS employs wellness coordinators, nurse care managers and navigators specifically to work with patients to ensure they receive quality care," she said. "The wellness coordinators are embedded in primary care locations to provide patients with resources related to insurance coverage and financial support, transportation, medication assistance and social services."
The nurse care managers and navigators offer clinical support to patients with chronic conditions or complex needs. UHS has also added a transportation coordinator and a durable medical equipment coordinator to facilitate care needs in the home setting for patients.
The team works with other community-based organizations to ensure appropriate transitions of care throughout the patient's journey.
UHS is home to an addiction treatment center, a comprehensive cancer care division evidenced by several accreditations, a heart failure accreditation and a focus on excellence in the areas of perinatal care, treatment of chronic pain and sleep apnea, to name a few.
"UHS is focused on populations across the age, gender, occupational and special needs spectrums," Ms. Velie said. "We pride ourselves on our attention to driving population health outcomes by attending to individual patient care needs, including clinical needs and social determinants of health."
Mr. Carrigg further noted: "UHS has a strong history of collaboration with the community, and these partnerships will continue to guide us as we focus on the key health objectives included in the Healthy People 2030 initiative."
The Healthy People initiative began in 1979 when the Surgeon General of the U.S. issued a report titled "Healthy People: The Surgeon General's Report on Health Promotion and Disease Prevention."
Healthy People 2030 is the fifth iteration of the initiative and builds on knowledge gained and lessons learned over the years to address current public health priorities.