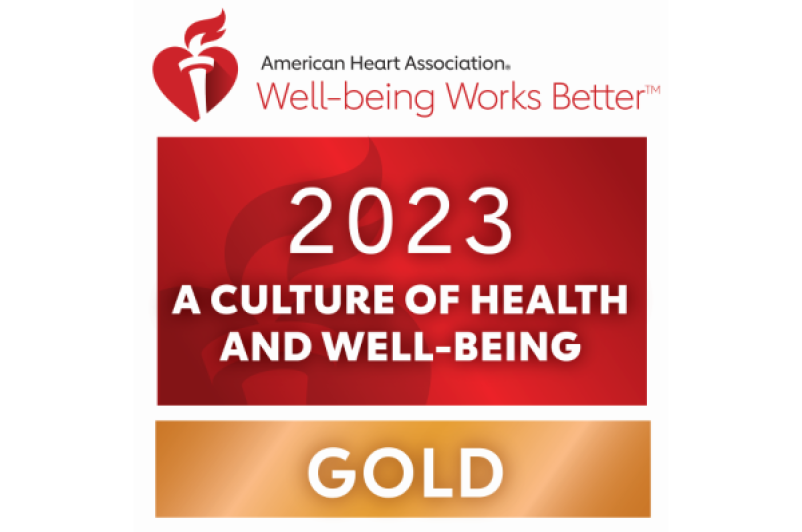 UHS finds 'Gold' in workforce well-being
November 20, 2023
The American Heart Association has awarded UHS national Gold-level recognition for our commitment to employee health and well-being as measured by the Association's 2023 Workforce Well-being Scorecard™.
The Scorecard evaluates factors such as mental health policies, organizational well-being strategies to address burnout, health equity measures, employee financial resources and more to provide a comprehensive assessment of an organization's culture of health. In 2023, a maximum of 230 points were possible for the completion of the Scorecard. Each organization's total score and recognition was solely based on responses to the 93 best-practice questions: 492 organizations completed the Scorecard, and all organizations were recognized with an achievement level of platinum (8%), gold (42%), silver (33%), bronze (12%) or completer (5%).
"UHS strives to provide a positive employee experience by offering robust wellness programs and initiatives that aim to improve the health and well-being of the workforce," said Kayla Velie, manager, UHS Medical Command Center.
The American Heart Association, a global force for healthier lives for all, developed the Workforce Well-being Scorecard in collaboration with top scientists and industry experts to reflect the latest evidence-based science on workforce health and well-being. First launched in 2016, the Scorecard was refreshed in 2022 to place a renewed focus on health equity and comprehensive organizational well-being. The free, web-based tool allows employers to regularly evaluate their health and well-being progress, identify areas of opportunity and see how their results stack up against their peers.
Research has shown that supporting the mental and physical well-being of employees is vital to driving productivity, engagement and successful business outcomes. By investing in a culture of health in the workplace, organizations can improve employee retention and bolster their organizational reputations.