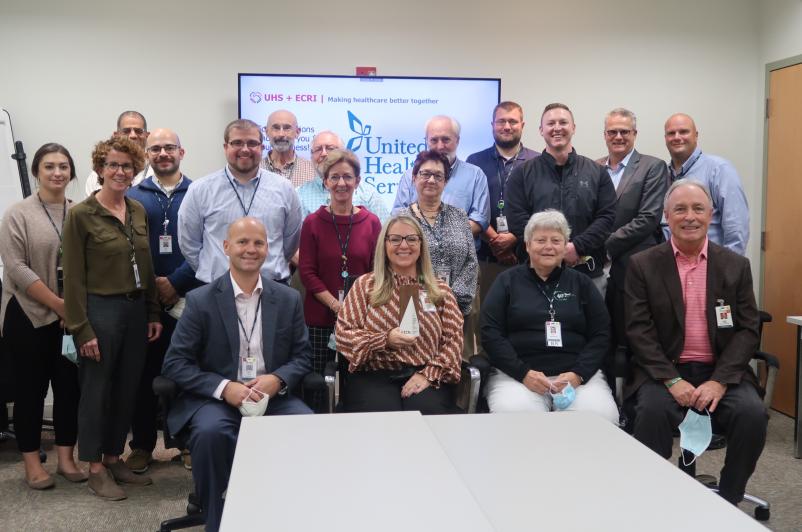 UHS earns national supply chain award
September 30, 2022
UHS is one of only 11 hospital organizations in the country to receive a top national award for excellence in supply chain practices. The award was presented Sept. 29 to UHS supply chain leaders and staff by representatives of a long-standing nonprofit agency originally called the Emergency Care Research Institute and now known exclusively by its initials, ECRI.
The Healthcare Supply Chain Achievement Award recognized UHS and 10 other institutions across the country for demonstrating outstanding procurement conduct, such as budgeting, benchmarking, technology assessment and strategic development. As part of the selection process, ECRI evaluated candidates' 2021 spend management and market analytics efforts for capital medical devices, supplies, physician preference items, service contracts and reagents.
"During the pandemic, UHS could not have maintained the exceptional level of quality care and service that our patients depend on without the contributions and support of our supply chain team," said John Carrigg, president and chief executive officer of UHS. "Moreover, this applies not just to the pandemic era, but to the long-standing commitment to the UHS Way that has characterized the supply chain team at all times and under all circumstances."
Marcus Schabacker, MD, PhD, president and chief executive officer of ECRI, visited the UHS Lewis Road facility in Johnson City on Sept. 29 to present the award.
"Since 2020, U.S. hospitals have faced extraordinary pandemic-related challenges pertaining to medical supply disruptions and shortages, and other global market forces," Dr. Schabacker said. "This year, it is especially rewarding to recognize 11 of our healthcare members for overcoming obstacles and achieving overall supply chain successes using our data-driven solutions. A big congratulations to our winners—we are honored to partner with you in keeping patients safe."
More than 3,000 U.S. hospitals and health systems are members of ECRI's strategic sourcing and supply chain programs. ECRI has analyzed $128 billion in supply and capital spending, including pandemic-related personal protective equipment from both traditional and non-traditional suppliers. ECRI's integrated technology decision support solutions help healthcare organizations of all sizes and settings reduce clinical spend and enhance patient outcomes.
See pictures from the award presentation below: