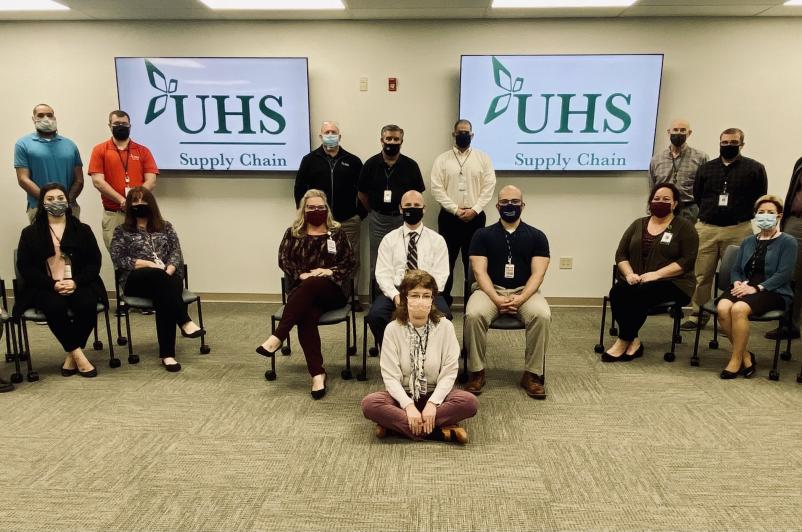 UHS earns 'Best 50' award for supply chain excellence
April 22, 2021
UHS has been recognized by healthcare supply chain leader Global Healthcare Exchange as a "Best 50" healthcare provider. For the past 13 years, GHX's annual "Best 50" award has spotlighted the top North American hospitals and healthcare systems based on their proven ability to improve operational performance while driving down costs through supply chain automation.
"This recognition is a testament to the leadership of our procurement team by Kristin Saunders, as well as the commitment to excellence across her collective team," said Blaine Olmsted, senior director of Supply Chain Operations at UHS. "Kristin and the team are simply top- notch."
Honorees are selected from a pool of more than 4,100 provider organizations connected to the GHX digital trading platform that score highest in areas such as maximizing document automation, Exchange utilization and trading partner connections during the 2020 calendar year. The recipients of the award for 2020 will be recognized during GHX's "Summit Live" on May 26, 2021.
"Every year, GHX honors a select group of providers that are setting a high bar for healthcare supply chain excellence," said Bruce Johnson, president and chief executive officer of GHX. "This year's honorees stand out, given how immensely challenging COVID-19 was for the global healthcare supply chain."
He added: "UHS showed an especially deep commitment and innovative approach to removing waste, driving efficiencies and raising the quality of patient care when it was even more critical."
The full list of 2020 winners and past winners can be found at this website: https://www.ghx.com/awards/best-50/.
Building on decades of collaboration between providers, manufacturers, distributors and other industry stakeholders, GHX is leading the charge in helping organizations run the new business of healthcare. By automating key business processes and translating evidence-based analytics and data into meaningful action, GHX is assisting the healthcare ecosystem in moving faster, operating more intelligently and achieving better outcomes.
"We are very pleased to be named a Best 50 honoree for the year 2020," Blaine said. "Our entire team has made it possible for us to meet the rigorous criteria for this recognition. It is especially satisfying to receive the award now, given all of the supply chain hurdles we have faced as a result of COVID-19."