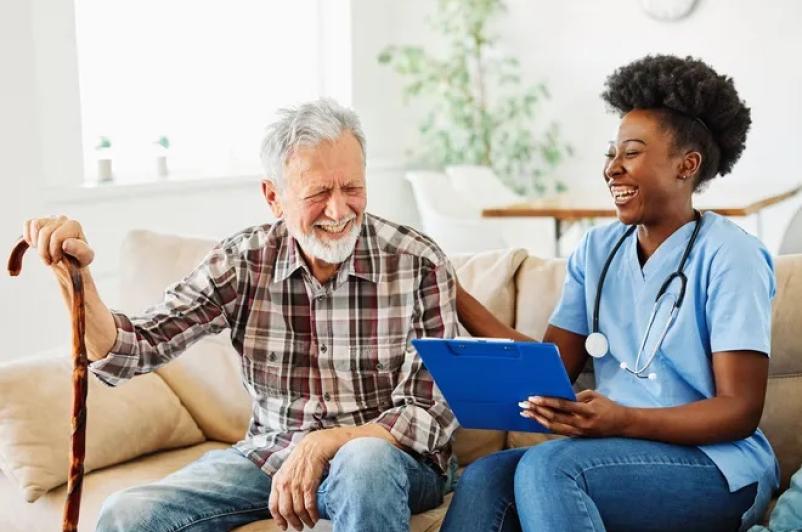 Recognition is in order for home health professionals
November 15, 2022
Throughout November, everyone is encouraged to look for ways to thank home healthcare and hospice professionals for the compassionate, effective work they do, as UHS celebrates National Home Care & Hospice Month. Organizations like UHS Home Care provide high quality and compassionate healthcare services to more than five million Americans annually, especially in times of community or personal health crisis.
Ninety percent of Americans want to age in place, and home care is the preferred method of healthcare delivery among many disabled, elderly and chronically ill individuals eager to live independently in their own homes as long as they possibly can. Home care services allow families to stay together, and provide for health, dignity and comfort in our communities. Home care in the U.S. is a growing alternative to hospitalization or other institution-based forms of care for acute and chronic illnesses, providing care to millions of Americans each year.
Two million everyday heroes, such as the members of the UHS Home Care team, include home care nurses, therapists and aides. Nationwide they will travel almost one billion miles to deliver care and work tirelessly to provide professional support to millions of Americans in need of quality health services. These dedicated professionals and volunteers form a support network that continues to play a vital role in healthcare delivery for our nation's disabled, infirm and aging population.
Through UHS Home Care, UHS is a leader in home health services throughout the Southern Tier. UHS Home Care—made up of Twin Tier Home Health and Professional Home Care—offers a wide array of services designed with an outstanding patient experience in mind. These include in-home care, respiratory care, durable medical equipment and a personal emergency alarm response system.
UHS joins with the National Association for Home Care & Hospice, and thousands of home care agencies across the U.S., in declaring November as National Home Care & Hospice Month and calling on Americans to observe these occasions with appropriate ceremonies and activities. By recognizing the unique efforts of these care professionals, you will be encouraging and supporting them as they care for patients in need. We of UHS salute and thank them for all they do.
Learn more about UHS Home Care by clicking here.