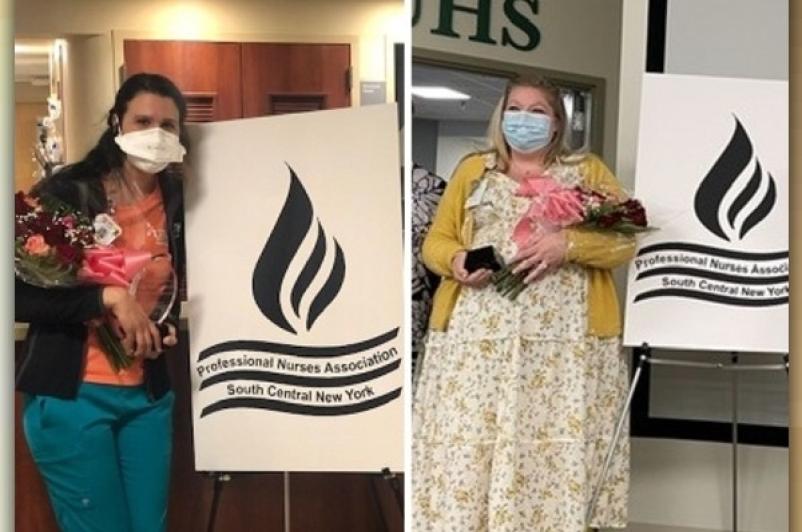 Professional association honors outstanding nurses
May 19, 2022
UHS nurses Kali Minier, RN, and Sara McDowell, RN, are being recognized as outstanding nurses by the Professional Nurses Association of South Central New York with 2022 Honored Nurse Awards. Usually recognized during the Nurses Day breakfast, which was postponed due to the pandemic, the association's board voted to continue the tradition by honoring several outstanding nurses. Also honored alongside the two UHS nurses was Jodi Sutherland, RN, of Binghamton University.
The PNA Honored Nurse Award 2022 recognizes a nurse who demonstrates outstanding performance in the practice of nursing. This award acknowledges the essential contributions that nurses across the continuum make to the healthcare community.
In the letter nominating her, Kali Minier was described as a very respected and important member of the nursing team at UHS. The nomination spoke of her behavioral skill set, combined with a high degree of clinical, technical and role expertise, making her an asset to the organization. Kali is dependable, reliable and extremely accountable. She is an effective team player who adds complementary skills to the UHS nursing team and contributes valuable ideas, opinions and feedback. She has an ability to form meaningful bonding relationships with other members of the nursing staff. Her commitment to excellence is evident every day and in everything she does. Kali is extremely flexible and dedicated to the organization's purpose and to the well-being of her peers.
In Sara McDowell's nomination letter, Sara was praised for her hard work during the pandemic and for embracing the science of nursing by continuously learning about the virus and how to manage it while learning new nursing skills, including phlebotomy and telemetry monitoring to care for an increased acuity of patients. She remained flexible to meet the needs of her patients as well as the unit. Sara demonstrated the art of nursing with vast patience throughout the pandemic. She continued to show compassion with each interaction with patients, families and colleagues.
Incorporated in 1934 (known at that time as District 5 Nurses Association), the Professional Nurses Association of South Central New York's mission is to foster high standard of nursing and promote the professional and educational advancement of nurses to improve healthcare for all. Since 1983, the group has encouraged the recognition of outstanding nursing professionals in all areas of practice.