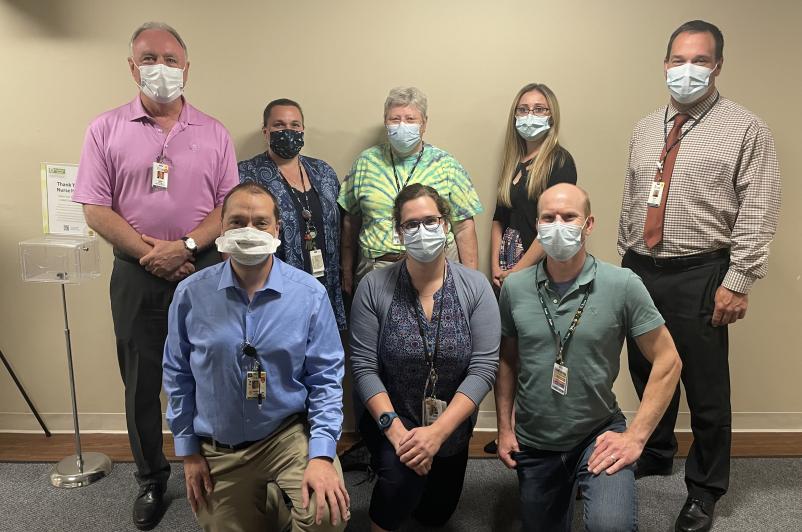 Life saved in Pharmacy by CPR Heroes' quick action
June 20, 2022
The UHS Value of Teamwork, among others, was on prominent display at UHS Binghamton General Hospital this month, resulting in a life saved. Quick action by members of the UHS Hospitals Pharmacy team is being credited with saving the life of a construction worker who collapsed while on the job June 10 at the in-hospital Pharmacy at UHS Binghamton General Hospital. Pharmacy staff and other members of Team UHS were recognized as "CPR Heroes" in a special ceremony on Friday, June 17, at the hospital Pharmacy. The recognition was led by John Carrigg, president and chief executive officer of UHS, and Kay Boland, RN, senior vice president, chief nursing officer and chief operating officer.
The teamwork that took place during the event showed an enormous amount of cooperation, coordination and sound judgment on the part of the UHS employees who stepped in to become instant lifesavers. Without that teamwork, the result may have been very different. The employees' actions in response to the sudden incident are being commended by senior leaders at UHS.
"The people of UHS are phenomenal every single day in their compassion and dedication," said John Carrigg. "And even so, every so often something extraordinary happens like what occurred last Friday. The Pharmacy team at UHS Binghamton General Hospital saved a life with their quick thinking, courage, professionalism and skill. This team is a great source of inspiration for all of us and we offer our heartfelt admiration and thanks to them."
"The UHS Pharmacy staff have a long-standing reputation for clinical excellence," said Kay Boland. "The immediacy of their response resulted in the gift of life for a patient and his family. Every day we have the opportunity to make a difference for a patient, visitor or colleague. Congratulations to the Pharmacy at UHS Binghamton General Hospital for the difference they made in this situation."
Several years ago the Pharmacy staff made a request to become a member of the CPR response team in an effort to apply their knowledge of medications to improve CPR outcomes. This patient-centered approach has been an important aspect of interdisciplinary care. "Now the UHS Binghamton General Hospital Pharmacy has distinguished themselves as a role model for action through the initiation of CPR during a life- threatening situation in their department," Kay noted.
June 10 was a routine day until an employee heard a loud noise in the back of the Pharmacy. On investigation, staff found that a contractor working on a project there had collapsed to the floor. At first it appeared that he may have fallen off a ladder and gotten "the wind knocked out of him," but staff members took nothing for granted. They encouraged the man to take slow, deep breaths, but soon realized that his condition was much more serious, and that he was going into cardiac arrest.
Brett Stankevich, PharmD, immediately started chest compressions, with Jason James, PharmD, assisting. Meanwhile, Josh Thorpe, PharmD, called 555 internally to report a medical first response, which became a CPR. Gabrielle Webb, technician supervisor, sprang into action, running to the fourth floor to get a crash cart. "Our remaining tech staff moved several items within the Pharmacy, making access to the situation easier," Jason said. "They helped direct responding staff to the site, and held doors open for staff and EMS personnel."
With Brett and Jason continuing CPR, the workman went in and out of respiratory arrest, but ED and ICU staff soon arrived to place AED pads on the patient. After one shock was administered, his heart returned to normal rhythm and an attending physician ordered medication to be administered. "Josh helped with drawing up the dose and the nurse administered the medication," Jason noted. "The gentleman began to slowly regain consciousness. EMS arrived to transport him to the ED at UHS Wilson Medical Center. Several employees also helped by calling the patient's wife to inform her of the situation."
Continuing, Jason said: "I must say that the response to this CPR was phenomenal. "The quick actions taken by Pharmacy employees, the entire CPR team and others truly saved this man's life."