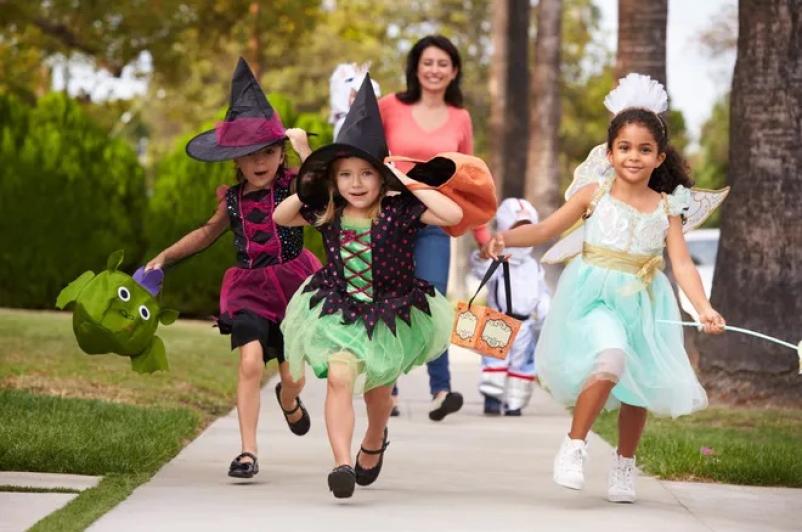 Halloween is time for fun — and safety precautions
October 23, 2022
In your preparations for Halloween, whether you and your family will be partying or trick-or-treating, it's important to keep everyone safe.
Here are a few tips:
When choosing or making a costume for children, ensure enough ground clearance to avoid trip hazards: Keep capes, long dresses and other draping accessories short enough for safe walking. Make sure children's shoes fit well and laces are tied.
Consider placing reflective tape on costumes or have children carry glowsticks for visibility. Skip masks or choose small ones that do not obstruct forward or peripheral vision.
Wigs, costumes and accessories should be fire-resistant. If your child's costume involves makeup, test the face paint ahead of time on a small area to ensure there is no topical reaction. If a costume includes a sword, stick or another long object, make sure the tip is blunt.
On Halloween night, ensure that young children are accompanied by an adult. Older children or teens who will trick-or-treat in small groups without an adult should stick to a pre-arranged route, approach only houses with the porch lights on, never approach cars to accept candy, and have a designated return time.
Remind children not to enter the homes of people they don't know and to hold off on eating treats until they return home, so parents or guardians can inspect candy for obvious hazards.
Knives should be left to teens and adults during pumpkin-carving events. Consider an electric candle or flashlight inside your pumpkin instead of a real flame. If you do use a real candle, make sure your pumpkin is on a stable, level surface, and extinguish the flame at the end of the evening.
If you and your children will be trick-or-treating in a neighborhood without streetlights, carry a flashlight with fresh batteries. Stay on sidewalks, and, in neighborhoods without sidewalks, stay to the side of the road and walk against traffic.
Parents accompanying children should wear light jackets or reflective safety vests to be easily seen, and should walk closest to traffic, keeping children on the yard side. Be especially careful when crossing a street.
If you'll be welcoming trick-or-treaters to your home, put your porch light on and be sure trip hazards have been removed from your primary entrance. Wet leaves or snow (which is sometimes already flying by Halloween in upstate New York) should be removed from your walk and stairs.
Pets likely to make an exit when the door is repeatedly opened, or who may jump on and knock over small children, should be crated or kept in another room during trick-or-treating hours.
If you won't personally be out with children on Halloween, be sure to watch more closely than usual for pedestrians, enter and exit driveways carefully, and watch for people in dark clothing. Have new or inexperienced drivers stay home.
Also, remember that trick-or-treating in your area may or may not be on Halloween itself--some municipalities designate a Friday or Saturday night for it if Halloween falls in the middle of the school week. Be sure you're applying your extra caution on the right day for your area.
By taking a few practical precautions, you and your family can enjoy the fun of Halloween time while avoiding its potential hazards.
And don't forget, you can join UHS for some Halloween Fun at our annual "Trunk or Treat" event set for Oct. 29 in the parking lot of the UHS Orthopedic Center. Click here to learn more.