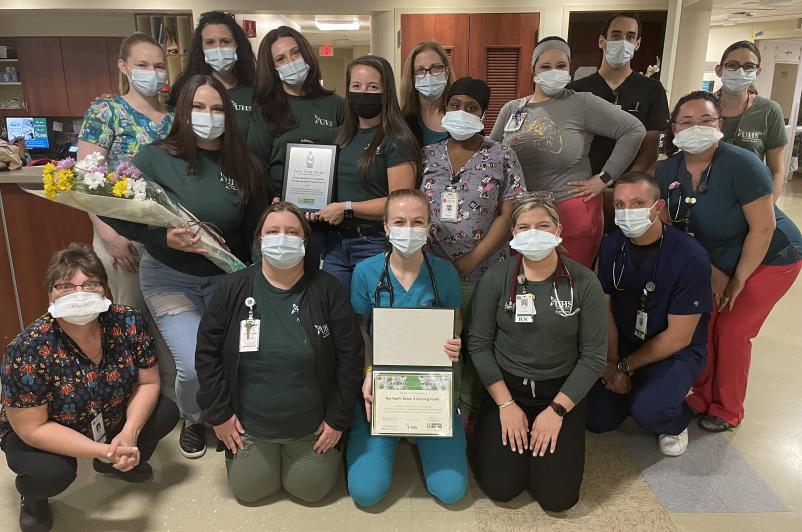 First DAISY team award goes to NT4
May 12, 2022
UHS is expanding the DAISY Awards beyond individual nurses to include an annual team award. The team recognition will be made every year during National Nurses Week. The first-ever team award goes to North Tower 4 at UHS Wilson Medical Center.
Persevering during a challenge
NT4 has persevered during extremely difficult times and has done so by living the Values of UHS and the standards of the DAISY Awards program. Nominated by Stephanie Jester, RN, director of Nursing at UHS Wilson, the team has made a lasting impression by how the members have never wavered from living the five Values: Compassion, Trust, Respect, Teamwork and Innovation.
Stephanie said she has witnessed compassion, trust and respect shown on a consistent basis, especially since visitation was restricted due to the COVID-19 pandemic. The NT4 staff took on the role of being not only caregivers but also companions to patients.
This was made evident in several special thank you notes that the unit received, excerpts of which appear here:
"I want to especially thank you for the kindness, compassion and insights you have shared with me and members of my family. With current limitations on visiting, you have really been the eyes and ears, the hands and hearts, in caring for our loved one as well as my family and me."
"Our family would like to thank you from the bottom of our hearts for the loving and compassionate care rendered to our loved one during his last weeks on earth. You have no idea how much this meant. Just to be able to see him will give us peace and closure until we all meet again. You are a wonderful group of people who exemplify the art of nursing."
"Although our family member wanted to go home more than anything, he frequently spoke of the wonderful care he was receiving from all of you. Often while talking with him on the phone, we could hear one or more of his nurses in the background. You were always kind, caring and compassionate. As busy as you were (and we know you are!), you always took our calls, encouraged us to continue calling, transferred our calls to his room and called us back when needed. We can't imagine the daily demands that are placed on all of you, but, in spite of the added work and stress, we never heard it in your voices or interactions with us."
Living our Values
Teamwork was also consistently demonstrated when NT4 supportively combined staffing with other units to meet the needs of patients, showed a willingness to pick up extra responsibilities for vacant shifts and worked with ancillaries to develop new workflows.
Innovation was key to the success of NT4 as the nurses challenged themselves to be continuous learners. This staff developed new knowledge and skills, becoming credentialed in coronary care for telemetry monitoring and phlebotomy lab draws. They became knowledgeable in COVID care, with new medication infusions and the heightened acuity of patients. The team adapted, switching from individual negative pressure rooms to a fully negative pressure unit.
"This team exemplified how a team comes together to provide an outstanding patient experience, support one another and serve our community," Stephanie said. "I cannot begin to express my gratitude to this team. While the past year has posed many challenges, they listened, showed respect and gave hope."
The North Tower 4 staff was recognized and presented with the DAISY Award for their achievement and enjoyed cinnamon rolls, a treat in honor of J. Patrick Barnes, a Seattle man who received outstanding care by nurses in Washington state and whose family was inspired to create the global award.
Honoring a team
UHS has been honoring our nurses over the past year by presenting nurses with the DAISY (Diseases Attacking the Immune SYstem) Award, an international recognition program that honors and celebrates the skillful, compassionate care nurses provide every day.
The DAISY Foundation was established Mr. Barnes' family members after he died from complications of the autoimmune disease ITP in 1999. During his hospitalization, they deeply appreciated the care and compassion shown by nurses. When he died, they felt compelled to say "thank you" to nurses in a very public way. To learn more, visit DAISYFoundation.org.
DAISY recognizes that, while achieving better patient and family outcomes may start with one individual, it often takes an entire team to implement such advances successfully. The team award is designed to honor collaboration by a team that goes above and beyond the traditional role of nursing to deliver kind and compassionate care.
Nominations encouraged
Nominations are submitted by using a form found on nyuhs.org. On this form, the person will be able to tell the story of why they are nominating the nurse, while also choosing which UHS Value (Compassion, Trust, Respect, Teamwork, Innovation) the nurse especially displayed.
If you have any questions, please contact Toni Nash at (607) 763-6896 or send an email to daisy@nyuhs.org.