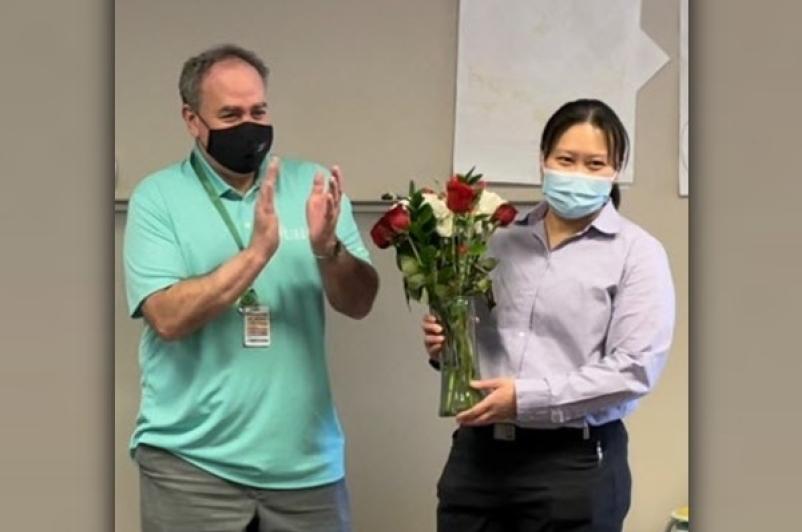 Dr. Ann Teng Named 2021 UHS Laureate
May 12, 2022
Dr. Ann Teng, MPH, Medical Director of UHS Occupational Medicine and the Medical Command Center, is the recipient of the 2021 UHS Laureate award. The UHS Laureate, one of highest honors to be awarded to UHS employees and providers, is given annually to those who have shown incredible dedication to excellence, patient care, and Living Our Values Every Day throughout the course of the previous year.
UHS senior leadership selected Dr. Teng as the 2021 Laureate from more than 55 System-wide nomination submissions. Dr. Teng received multiple nominations from six of her colleagues. She was also nominated for last year's UHS Laureate award, which underscores her long-term contributions. In their nominations, Dr. Teng's colleagues cited her collaboration, innovation, and transformative leadership, among many other attributes.
Since the onset of the COVID-19 pandemic, Dr. Teng has been instrumental in leading our Medical Command Center, providing guidance—and often reassurance—to our workforce.
One of the nomination submissions reads, in part:
"…Dr. Teng has always been ready and willing to jump in head-first to make sure our employees' safety is top of mind and that patient care is always able to be given at the same high standard that our patients are used to. Navigating a healthcare organization through a global pandemic takes a team of incredibly dedicated individuals, and Dr. Teng stands out as a truly transformational leader during a time of uncertainty and constant change."
On May 9, Dr. Teng was presented with the UHS Laureate award among colleagues and friends at the Medical Command Center. 
"Ann has been an absolute rock star and the glue that has helped us get through an incredible two years—she is respected and has been even-keeled in the face of some difficult times," said Dr. Alan Miller, president of UHS Medical Group, at the event.
Even before COVID forced us to transition to our new normal, Dr. Teng has consistently advocated for workforce wellness and safety, particularly during events that affected public health, as Kay Boland, Senior VP, CNO, and COO, reminded event attendees. During other outbreaks in years' past, Dr. Teng was responsive to employees' questions and concerns, helping to ease their fears around the clock, Boland explained. "I think, frankly, it was the start of a really good run," she said.
John Carrigg, president and CEO, presented Dr. Teng with three days of PTO and thanked her for her leadership and teamwork. Carrigg will recognize and honor Dr. Teng at the upcoming UHS Annual Meeting later this month.
Please join us in congratulating Dr. Ann Teng, the 2021 UHS Laureate!