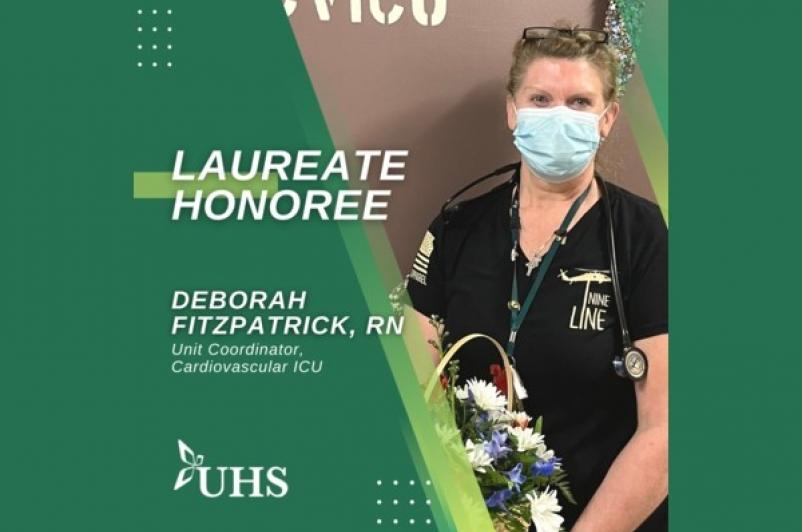 Deb Fitzpatrick, RN, Honored as Inaugural UHS Laureate
May 24, 2021
Deborah Fitzpatrick, RN, unit coordinator, Cardiovascular ICU, has been honored as the 2020 UHS Laureate. The UHS Laureate, one of highest honors to be awarded to UHS employees, is given annually to those who have showed incredible dedication to excellence, patient care, and Living Our Values Every Day throughout the course of the previous year. Deb is the first employee to receive this new award.
Deb was nominated by Marlo Francisco, nurse manager, Cardiovascular ICU. In her nomination, Marlo cites Deb's work ethic, compassionate patient care, and the ways in which she goes above and beyond each day. Below is a portion of Marlo's nomination submission.
"Our days can get very stressful rather quickly and Deb is continually ready, willing, and able to lead us through the many tasks that need completion in order to maintain critical care workflow. Deb isn't always at the bedside, rather she has earned respect from her coworkers by stepping in and up to help perform various tasks, transporting patients off the unit, and well assisting the physicians for the primary RN so she/he can focus on their other patients… She cares for our patients both inside and outside of UHS. She works hard to accommodate smooth workflow for our staff and patients by consistently changing her role.
Deb encompasses what the UHS Laureate Award stands for; I am honored to nominate her."
On May 20, UHS leadership and Deb's family paid a visit to the CVICU to surprise and honor our newest Laureate. Deb was selected as the 2020 Laureate by UHS senior leadership from more than 40 nomination submissions.
Please join us in congratulating Deb Fitzpatrick!
You can watch the video below to see more from the day's events.