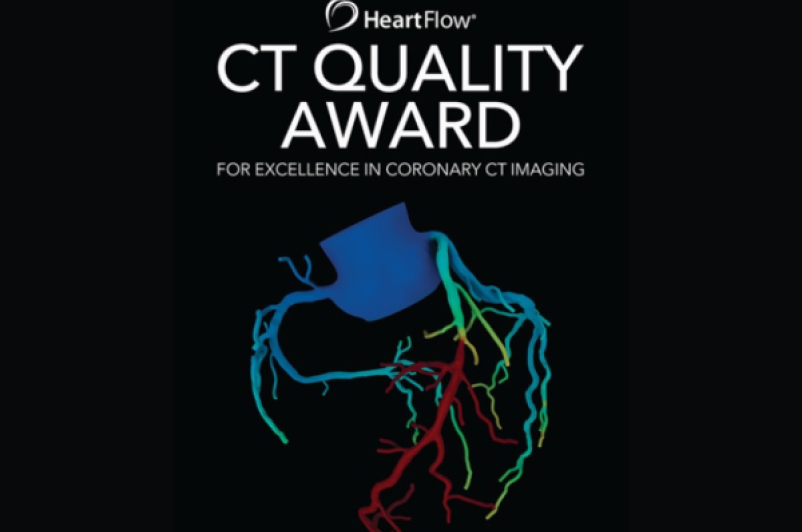 Cardiovascular Imaging team at UHS earns top quality award
September 18, 2023
UHS' Cardiovascular Imaging team has earned a HeartFlow CT Quality Award for the second quarter of 2023.
This is the first time our Cardiovascular Imaging program has received one of the prestigious recognitions, presented by HeartFlow Inc., a leading medical technology company whose goal is to revolutionize precision heart care.
"We are excited to offer the latest in cardiac imaging right here at UHS," said UHS Hospitals cardiologist Nasir Hussain, MD, who is fellowship-trained in advanced cardiac imaging. "Cardiac CT imaging and HeartFlow offer a non-invasive assessment of the coronary arteries with greater than 90 percent diagnostic accuracy."
Award recipients are determined based on metrics assessing the quality and adoption of a medical center's cardiovascular imaging program, said Ashley Croft, senior district sales manager at HeartFlow.
"Recipients are in the top 20 percent of medical centers globally that provide their patients with a better pathway for identifying and understanding their heart health," Ashley Croft said. "This is done by utilizing coronary CT and the HeartFlow analysis."
According to heartflow.com, HeartFlow's aim is to combine decades of human ingenuity and advanced technology to transform the diagnosis and management of coronary artery disease, push into new frontiers and forge incredible partnerships along the way.
The UHS Heart & Vascular Institute at UHS Wilson Medical Center is the regional referral center for heart care in New York's Southern Tier.
The program offers patients a comprehensive array of cardiovascular imaging services, including CT scan, MRI and nuclear imaging.