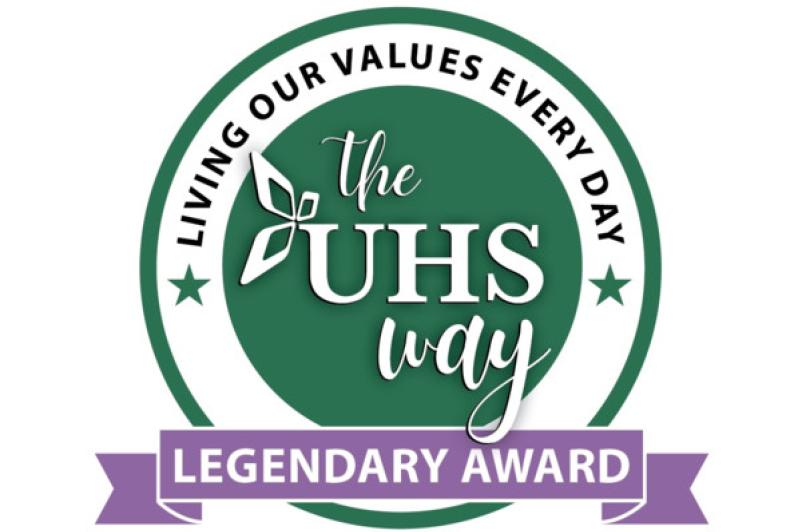 Ann Ostrander Recognized as UHS Legendary Award Recipient
January 13, 2022
Ann Ostrander, LPN at UHS Delaware Valley Hospital, could easily be considered an all-around, best-in-class teammate. Always willing to lend a hand, pick up shifts, or bake for a colleague's birthday, Ann's positive, compassionate attitude impacts not only her teammates, but also her patients. Ann is an exceptional role model and consistently displays our Values of Compassion, Trust, Respect, Teamwork, and Innovation.
In recognition of her contributions, DVH senior leadership and United Health Services is proud to award Ann Ostrander with the UHS Legendary Award. The Legendary Award is given to individuals who excel in leadership and initiative—those who have made such a difference at UHS that they are none other than "legendary."
Ann began working at UHS in 2010. In the last two years, specifically, Ann has gone above and beyond to demonstrate invaluable teamwork. In addition to working at UHS Primary Care Walton, Ann has cross-trained on DVH's Medical Unit and has been filling in with incredible flexibility during staffing challenges to ensure patients are cared for. When asked if she would be willing to transition into the Medical Unit for a month, she immediately replied: "Sure, whatever the team needs," according to Rolland "Boomer" Bojo, President and CEO of UHS Delaware Valley Hospital.
"Ann has a positive attitude all the time and she is never afraid to take on a new challenge with a smile on her face," Boomer says. "What any one of us can learn from Ann, is that one person can make a big difference for many people. We all need to remember that every interaction we have with others is an opportunity to make a difference in that person's life."
Other leaders at DVH, including AnnMarie Henry, Nurse Manager for DVH's Medical Unit, and Lisa Moffett, Director of Primary Care Centers, agree that Ann is very deserving of the Legendary Award. Both emphasized that she is dedicated to her profession, coworkers, and above all else, her patients.
By working in a variety of roles, Ann has had the opportunity make a difference in the lives of many, many patients. In her primary care role, Ann brings patients to their exam room and assists providers with procedures and wound care. If she's covering an outreach clinic, she completes blood draws, as well. In the hospital setting, she assists patients with medications, treatments, basic ADL care, and any other needs that arise.
Most importantly, Ann makes sure patients have what they need, and she cares for them with unmatched compassion.
"You can hear the kindness in her voice, she truly cares," says Victoria Conkling, VP Patient Care Services at DVH. "Some patients offer special challenges, behaviors, and needs; Ann is respectful of each and every patient she cares for."
Victoria also describes Ann as a trustworthy team player. "If Ann says she is going to do something, pick up an extra shift for example, we can count on her to be there—always… She is always willing to assist her coworkers and does so with a positive attitude," she says. "I enjoyed working side-by-side with Ann and others preparing salads for our barbeque this past summer. What a joy she brought to the task because of her calm demeanor and great attitude."
Ann says one of the most rewarding things about her job has been the relationships she has created with her colleagues and her patients. She describes her teammates as her family, always supporting one another, especially in the fight against COVID-19.
"We all have our days when we don't really want to be at work, but we put smiles on our faces and treat everyone with respect and give patients the best care they deserve. And thank goodness those days are few and far between," Ann says. "I have to say, I really do like coming to work every day... DVH is a great place to work and I have made many lifelong friends here."
Ann plans to be a long-term UHS employee and is currently pursuing an associate's degree in nursing to become an RN, she says "to be more of an asset to the team here at DVH." A very humble statement, as she's already an incredible blessing to her teammates. There's no doubt Ann will continue to thrive and make an even bigger impact in years to come.
Please join us in congratulating Ann Ostrander as a UHS Legendary Award recipient!