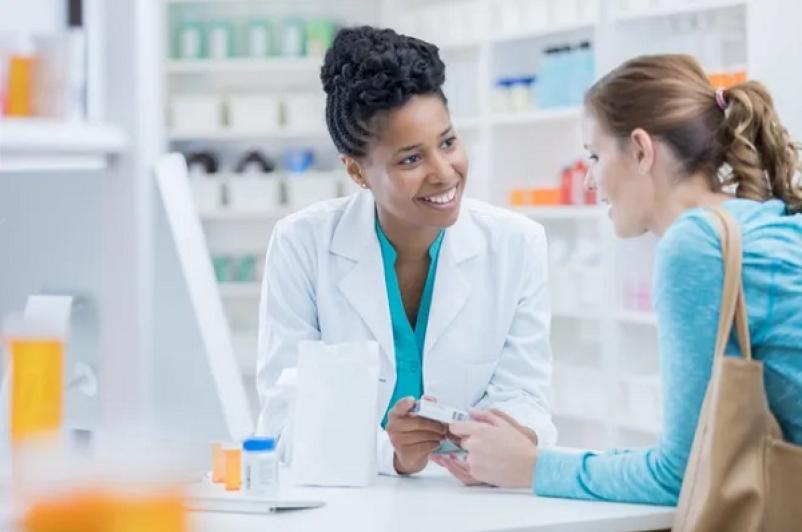 UHS tailors 24/7 pharmacy services to patients' specific needs
October 16, 2023
While some pharmacies around the country are cutting hours, UHS has expanded to accommodate patients' needs, whenever and wherever those needs arise. Southern Tier residents can get their prescriptions filled at a UHS pharmacy that's quick, convenient and open 24 hours a day.
UHS Pharmacy Wilson Place, at 52 Harrison St. in Johnson City, offers retail pharmacy services to the public around-the-clock. The Wilson Place location is Greater Binghamton's only 24-hour pharmacy, and is relatively close to all local hospitals, making it helpful for patients who are leaving one of the emergency rooms or being discharged after hours and in need of a prescription.
And soon, by early 2024, that pharmacy will be moving to an even more centralized location: 345 Main Street across from the Wilson Main Tower now under construction. Work started this fall on the 10,000-square-foot pharmacy structure, the site of a former CVS retail store. The new site is also a short distance from Westover Plaza on Main Street, where UHS is renovating a former ALDI retail store into the UHS Child Care Center. One of its key features will be a drive-up window for prescriptions.
"When you see the strong presence we are developing in the area, you see UHS' dedication and commitment to services needed by the people of our community," said Leigh Briscoe-Dwyer, PharmD, BCPS, FASHP, system director of Pharmacy at UHS. "When completed early next year, the new location will offer patients exceptional access and convenience, in close proximity to the UHS Wilson Medical Center campus and with the retail pharmacy open with convenient, friendly service 24/7."
This is just one example of how UHS offers pharmacy services to meet the specific needs of healthcare patients across the Southern Tier.
Through the UHS Specialty Pharmacy, for instance, patients with unique, complicated medical conditions have a resource for getting the specialized medications they need. The specialty service focuses on medications for such serious and chronic diseases as cancer, asthma, hepatitis and others, which often require long-term, costly treatment. Help with arranging for financial assistance also is available. Currently this pharmacy is located inside UHS Binghamton General Hospital, but it too will be moving next year to the new Main Street building in Johnson City.
UHS currently operates five retail pharmacies across the Southern Tier that are open to the public. These locations offer a wide range of prescription medications, along with convenience and friendly, knowledgeable service. The five pharmacies are at UHS Vestal, UHS Endicott, UHS Delaware Valley Hospital, UHS Binghamton General Hospital and UHS Wilson Place.
UHS' full-service retail pharmacies accept prescriptions from any provider and stock the most popular over-the-counter items, so patrons can pick up cough drops, aspirin or similar products when stopping in for their prescription medications.
UHS pharmacies have what is called an open formulary, which means that the most commonly used medications are available, with next-day access to other items available through UHS' pharmacy wholesaler. The pharmacy typically can turn around a prescription in 30 minutes or less for patients leaving a physician appointment, those being discharged after a hospital stay or those with other acute needs.
Patients can be alerted that their prescriptions are ready by automated phone call or, if enrolled, via notification from UHS' MyChart. Medications can be delivered to the bedside of a hospitalized patient before they are discharged.
Patient education is an important part of the UHS Pharmacy Department's mission, and it is conducted confidentially by highly knowledgeable pharmacy professionals. One of our goals is to keep patients out of the emergency room. A top reason for readmissions to the hospital is a lack of knowledge about medications. Pharmacist-supervised drug reconciliation and patient education play a huge role in medication compliance and patient success.
There is no better time to recognize and appreciate the invaluable contributions pharmacists and technicians make to patient care than during October which is American Pharmacists Month and contains National Pharmacy Week, which runs from October 15-21. We celebrate our pharmacists and give thanks and appreciation for the role they play every day in our health, our communities, and our lives. We invite you to join us in recognizing the invaluable work done by pharmacists and the vital role that they play in society. So, make sure to thank your pharmacist during October!