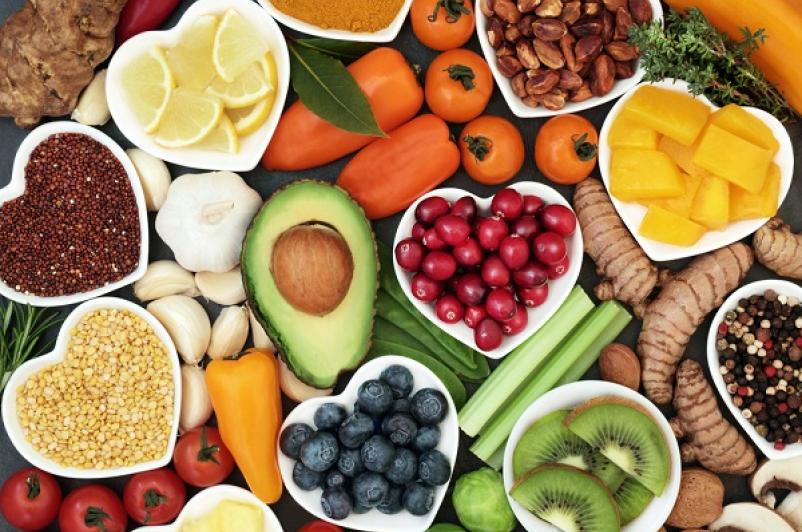 UHS Nutrition Services offers tips, recipes for heart-healthy eating
February 01, 2023
February is American Heart Month and the perfect time to take advantage of these heart-healthy tips and recipes from UHS Nutrition Services.
Our nutrition experts say a good place to start is by reducing the amount of sodium you are consuming:
Reduce the amount of takeout and prepared foods you are eating.
Prepare more meals at home.
Skip adding salt and other high sodium condiments to your food, such as soy sauce, ketchup, pickles and olives.
If you are using canned or prepared foods- choose "reduced-sodium", "low-sodium" and "no-added-salt."
Season foods with herbs, spices, garlic, onions, peppers and lemon or lime juice to add flavor.
Add more fruits and veggies:
Increase the number of fruits and vegetables you are eating. Fresh, frozen and canned can all be healthy options!
Look for reduced sodium canned veggies, avoid frozen veggies with added sauce.
Choose canned fruits that are packed in water instead of juice.
Increase your fiber intake:
Make sure your grains are grains such as, oatmeal, quinoa and brown rice.
Choose whole grain breads and cereals.
Choose heart-friendly fats:
Heart-friendly fats include olive oil, avocados, walnuts and almonds.
Avoid or limit foods like bacon, butter, red meat and ice cream. 
Don't be afraid to try new things! 
Foods such as beans, lentils and fatty fish can also be a tasty addition to your heart healthy lifestyle!
Heart-Healthy Recipes
Sweet Potato Shepherd's Pie
Ingredients:
1 lb. sweet potatoes
OR
45 oz. canned, unsweetened yams or sweet potatoes in water, rinsed
1/2 cup skim milk
1/2 tsp. ground cinnamon or nutmeg
non-stick Cooking spray
1 medium onion (any color), chopped
1 bell pepper (any color), seeded, chopped
1 lb. extra-lean, fat-free, ground turkey (95%-99% lean)
1/2 tsp. dried thyme or basil
16 oz. frozen vegetable medley (like green beans, corn, and peas) or whatever is on sale, thawed
1 cup low-sodium beef broth
2 tsp. cornstarch
Directions
Preheat the oven to 400° F.
Wash and peel sweet potatoes. Chop into 1-inch pieces.
Add to a large pot and cover with water. Bring to a boil over high heat. Cook until potatoes are very tender, about 12 to 15 minutes. Drain in a colander.
Return sweet potatoes to pot. Add milk, cinnamon, or nutmeg. Mash with a fork or potato masher until smooth.
Spray large pan with cooking spray. Add chopped onion and bell pepper and cook over medium-high heat until softened, about 5 minutes. Add meat and thyme, cooking until done, about 5 more minutes.
Add vegetables, beef broth, and cornstarch, stirring to combine. Cook a few minutes until sauce has thickened. Remove from heat.
Add beef mixture into an 8- or 9-inch baking dish. Spread the sweet potatoes evenly on top of the beef and vegetables. Cook in oven until entirely heated, about 15 minutes.
Spinach stuffed baked salmon
Spinach stuffed baked salmon
Ingredients 
3 ounces fish and 1/2 cup vegetables
1 teaspoon olive oil (extra virgin preferred)
2 ounces spinach
1 teaspoon grated lemon zest
1/4 cup chopped roasted red bell peppers, rinsed and drained if bottled
1/4 cup fresh basil, coarsely chopped
2 tablespoons chopped walnuts
Cooking spray
4 salmon fillets (about 4 ounces each)
2 tablespoons Dijon mustard (lowest sodium available)
2 tablespoons plain dry bread crumbs (lowest sodium available)
1/2 teaspoon dried oregano, crumbled
1/2 teaspoon garlic powder
1/8 teaspoon pepper
Directions
In a large skillet, heat the oil over medium heat, swirling to coat the bottom. Cook the spinach and lemon zest for 2 minutes, or until the spinach is wilted, stirring constantly. Transfer to a medium bowl. Stir in the roasted peppers, basil, and walnuts. Let cool for 5 minutes.
Preheat the oven to 400°F. Line a baking sheet with aluminum foil. Lightly spray the foil with cooking spray.
Cut a lengthwise slit in the side of each fillet to make a pocket for the stuffing. Be careful to not cut through to the other side. With a spoon or your fingers, carefully stuff a scant 1/2 cup spinach mixture into each fillet. Transfer to the baking sheet. With a pastry brush or spoon, spread the mustard over the fish.
In a small bowl, stir together the remaining ingredients. Sprinkle over the fish. Lightly spray the top with cooking spray.
Bake for 12 to 13 minutes, or until the fish is the desired doneness and the filling is heated through.
The recipes I pulled from the American Heart Association
Learn more about UHS Nutrition Services by clicking here.