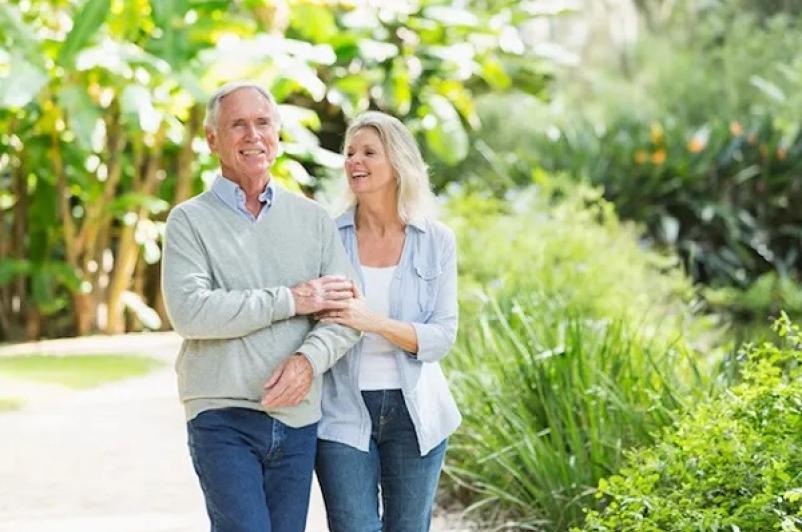 UHS is community's 'Healthy Aging' resource
September 05, 2023
Healthy Aging Month is observed each year during September. This observance raises awareness about the physical and mental health of older adults and serves as a reminder that, as we age, our minds and bodies change. UHS is an organization that recognizes those changing needs and tailors medical care and service to meet them. Across UHS, programs abound for older adults. In fact, our healthcare system has received national recognition for being in tune with the needs of the senior population.
We understand that, for many older patients and their families, hospital care can be a source of stress. That's why we take part in the Nurses Improving Care for Healthsystem Elders (NICHE) program. As a result, UHS has earned 2023 "Senior-Friendly" recognition from NICHE. The designation shows success in the implementation of high-quality, System-wide initiatives that demonstrate a commitment to the care of older adults.
NICHE is a national nurse-driven program that validates a hospital's commitment to excellence in the care of patients age 65 or older. As part of our partnership with NICHE, UHS nurses have access to special training in the care of older patients. "We are proud to be recognized as senior-friendly by the NICHE program," said Peggy Thomas, MSN, RN, CENP, vice president for Nursing and chief nursing officer of UHS Hospitals. "This recognition reflects UHS' commitment and dedication to providing care and improving healthcare for older adults and all patients."
Similarly, primary care offices associated with UHS Hospitals recently earned badges designating them as "4M Age-Friendly Health System Committed to Care Excellence" practices from the nationally renowned Institute for Healthcare Improvement and the Healthcare Association of New York State.
"This signifies UHS Hospitals' commitment to older patients using the evidence-based 4M model of care," said Frank Eder, MD, a provider with UHS Primary Care Upper Front Street in Binghamton. "Age-friendly facilities see improvement in patient experience scores and quality outcomes, such as readmissions, emergency department utilization and length of stay." The designation lets UHS Hospitals patients know that older adults matter to us. They're a population with unique issues, and the 4M excellence badge shows that our staff are aware of this and willing to work toward better outcomes.
UHS is also a leader in the field of long-term residential care of the elderly. UHS Senior Living at Ideal has achieved the rank of a five-star skilled nursing facility, according to the Centers for Medicare and Medicaid Services. The federal agency's "Care Compare Five-Star Ratings" for July 2023 gave UHS Ideal five stars in the categories of quality measures and overall quality, and four stars each for health inspection and staffing. "This is a significant accomplishment, as it is a comparison of UHS Ideal to other nursing homes across the state and country," said James Shadduck, administrator of UHS Ideal. Both UHS Senior Living at Chenango Memorial Hospital and the hospital's Inpatient Rehabilitation Unit received five stars in the most recent ranking by the Centers for Medicare and Medicaid Services (CMS). This acknowledges and validates the high quality of care we provide our elderly residents and our short-term rehab patients in the Norwich area.
UHS also reaches out to the region to participate in community-based efforts to make a difference in the lives of older persons and their families, including those dealing with Alzheimer's and dementia. More than six million Americans are living with Alzheimer's and, by 2050, the number is projected to rise to nearly 13 million. Team UHS is acutely aware of the toll this disease takes on individuals and their loved ones, which is why we field a team in the annual "Walk to End Alzheimer's-Southern Tier." If you would like to participate, the next walk is Saturday, Sept. 9, starting at 10 a.m., at Hickories Park in Owego; contact Kirsten Johnson, 315-612-2747.
Those seniors living independently at home also have access to a service that gives them peace of mind and emergency help at the push of a button. UHS Home Care's Home Emergency Alarm Response (HEAR) system, featuring specially trained emergency operators, allows subscribers to call for help whether they are in their own house or on the go.
UHS is here for senior citizens, during Healthy Aging Month and all through the year! To learn more about UHS Senior Care programs and services specifically designed for seniors, click here.