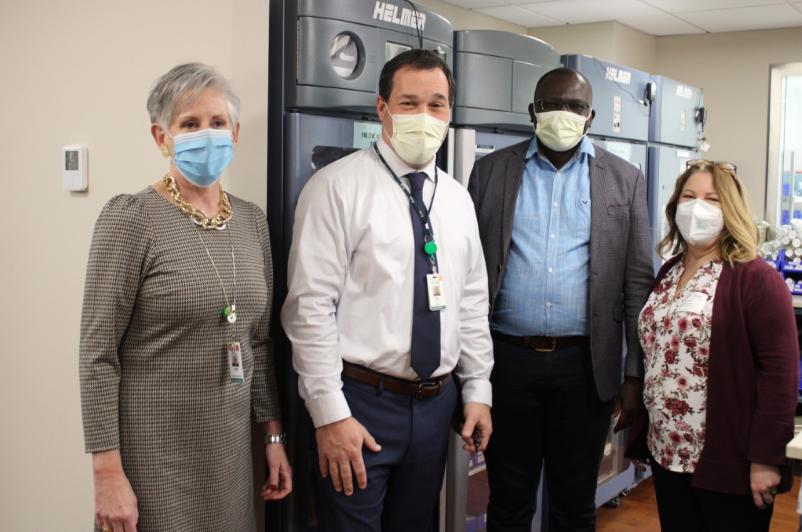 Uganda Parliament member tours UHS Pharmacies
January 18, 2023
The Pharmacy team at UHS Hospitals hosted a visiting dignitary from Africa Jan. 17 when a member of the Parliament of Uganda toured the Pharmacies at UHS Binghamton General Hospital and UHS Wilson Medical Center.
Dr. Samuel Opio Acuti, a pharmacist and member of the Uganda Parliament, visited UHS Hospitals to become acquainted with the most recent advances in inpatient, outpatient, specialty and medical oncology pharmacy practice currently available to UHS patients.
Among those meeting Dr. Opio for the tour were Leigh Briscoe-Dwyer, Jim Jester, Jason James, Bill Waldron, Pam Krolczyk, Cameron Bogicevic, Kevin Thomas, Val Butash, Jennifer Sheahan and several Pharmacy residents.
Dr. Opio was accompanied on the tour by Karenbeth Bohan of the Binghamton University School of Pharmacy and Pharmaceutical Sciences.
"We have a wonderful partnership with the School of Pharmacy at the University, and very pleased we were able to host Dr. Opio during his visit," said Leigh Briscoe-Dwyer, System director of Pharmacy at UHS. "Within the UHS System, we have every aspect of pharmacy practice, from medical oncology infusion to robotics."
In Parliament, Dr. Opio represents the Kole North Constituency, Kole District, Lango sub-region. A pharmacist and pharmacologist by profession, his legislative role includes membership on the Health Committee, which is responsible for legislation, budget appropriation and oversight for the health sector of the nation.
Previously he served as secretary of the Pharmaceutical Society of Uganda.