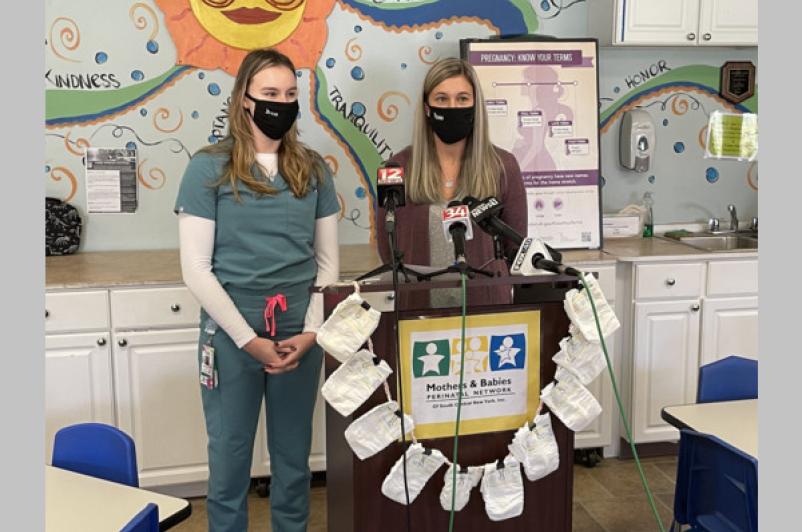 Prematurity Awareness Month highlighted by press conference
November 16, 2021
UHS NICU staff joined with the Mothers & Babies Perinatal Network Tuesday, November 16 for a press conference to highlight Prematurity Awareness Month.
Prematurity Awareness Month is observed every November, with World Prematurity Day on November 17, to raise awareness of preterm birth, the concerns of preterm babies and their families worldwide and what we can do to prevent it. About 1 in 10 babies are born preterm, or before completing the normal 37 to 40 weeks of pregnancy. These babies miss out on the important growth and development that happens in the final weeks. Preterm birth is also a leading cause of infant mortality. Babies who survive can have short- and long-term health problems.
At today's press conference Allison Hores, UHS NICU Nurse Manager, and Lauren Wasser, UHS NICU Nurse, spoke about the important services the UHS NICU offers and how they care for families during their time in the NICU. They were joined by Sharon Chesna and Christie Finch from the Mothers & Babies Perinatal Network who discussed the 2021 March of Dimes Report Card, along with services they offer and community partnerships and Patricia Cordner, a mother of a premature infant who spent time at the UHS Wilson Medical Center NICU who spoke about how grateful she was for the care she received while there.
For more information on Mothers & Babies and the services they offer, click here.
To learn more about the care and treatment offered at the UHS NICU, click here.