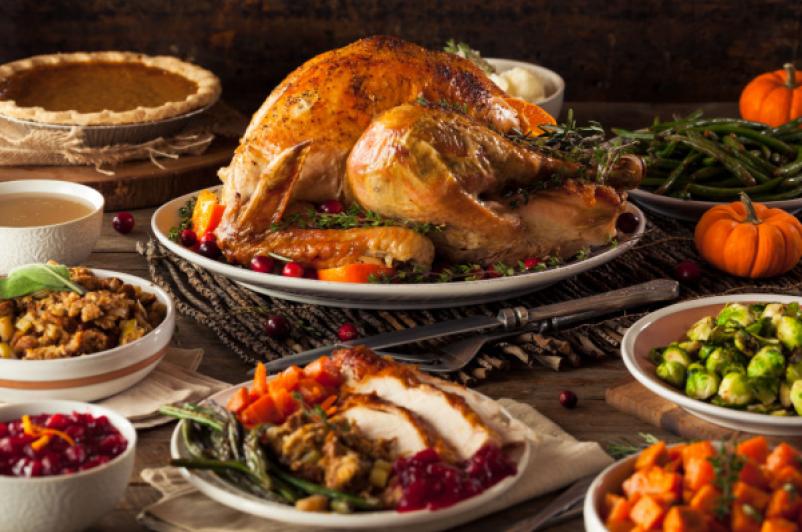 Holidays don't necessarily mean weight-gain time
November 21, 2022
As the time for some of the year's most popular holidays draws nigh, many people worry about the likelihood of weight gain in connection with the sumptuous meals of the season. It doesn't have to be that way!
Life is opening back up in spite of the continued existence of the COVID-19 pandemic, and many folks are gathering once again for holiday dinners and parties.
UHS dietary experts have a number of thoughts for you on how to maintain a balanced diet and healthy weight through the end of the year. Among their tips and suggestions are these:
Start with the easy stuff. Grocery shop on a full stomach, so you're not impulse buying. Don't bring home things you don't want to consume. For example, if you know you'll be tempted to have ice cream every night until it's gone, skip it altogether or buy only pint containers so it's not constantly available.
Set the tone for a healthy day by starting off with a fruit shake supplemented with protein such as whey.
If food–and lots of it–is what makes it the holidays for you, make a list of family favorites, then narrow it down. Have each family member choose one item to keep, or cut the list based on ingredient cost or prep time.
If you usually deep fry a turkey, try for a baked or broiled version. If you're the cook, try chewing gum while prepping food to help you avoid the temptation to sample. After dinner, limit yourself to a single selection from the dessert table instead of filling a second plate with treats. And don't forget to pay attention to alcohol consumption; beer, wine, cocktails and hard liquors pack a surprising number of calories.
Stay or get active: Walk or run outside wearing weather appropriate clothing, walk around inside your building on your lunch break, or even choose the farthest parking space from the door to add in extra steps. Many types of exercise can be done at home, such as yoga, spinning (stationary biking), treadmill or step machine time, or weights. Find a free YouTube channel you enjoy and follow the workouts or select a paid exercise program.
Once you've established healthy lifestyle habits around the holidays, keep them going as you enter the New Year! To learn more about UHS Nutrition Services, click here.